Profile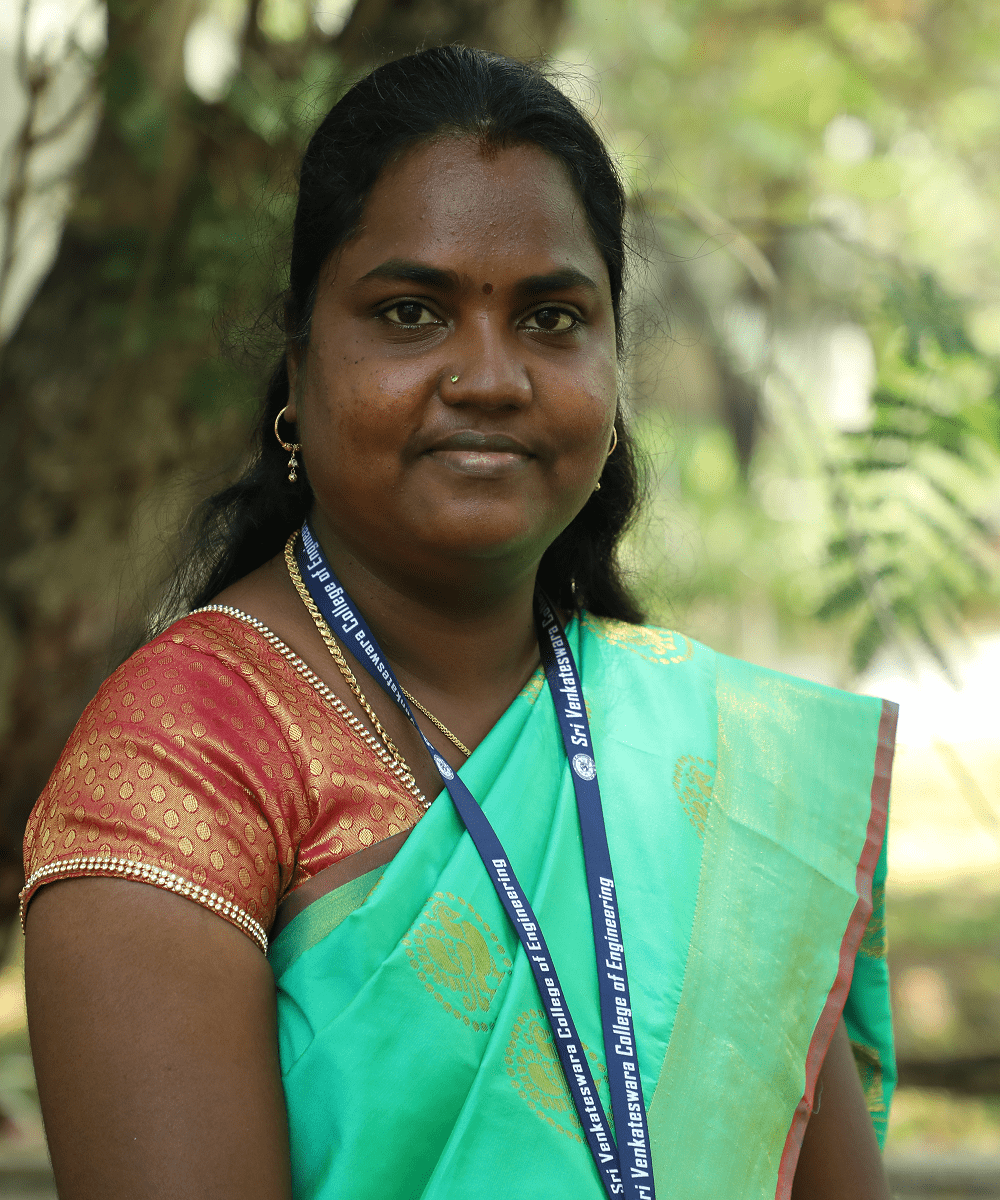 | | |
| --- | --- |
| Name | Ms.V.Radha |
| Designation | Assistant Professor |
| Areas of Interest | Networks |
| Room No. | 5214 |
| Intercom No. | 310 |
| Mobile | 9600633165 |
| Email Id (Official) | radhav@svce.ac.in |
| Email Id (Personal) | |
Qualification
BE(CSE)-Thirumalai Engineering college
ME(CSE)-Sri Venkateswara College of Engineering
Academic Experience
Worked at Sri Ramanamaharishi college of engineering for 1.10 years
Worked at Thirumalai Engineering College for 1 year
Worked at University colllege of Engineering kanchipuram for 4months
Working as an Assistant Professor in the Department of Computer Science & Engineering in SVCE
(From 22-02-2021 onwards)
Courses Handled
Theory Courses
Resource Management Techniques
Problem Solving & python Programming
Object Oriented Programming
Object Oriented Analysis and Design
Advanced computer Architecture
Mobile Computing
Programming in C
Professional Ethics in Engineering
Laboratory Courses
Programming in C Lab
Computer Networks Lab
Object Oriented Analysis & Design Lab
Research & Consultancy
International Journal
Published a paper on "key Management Using polynomial Interpolation for manet " in International Journal of Applied Engineering Research(IJAER) in 2015.
Conference / Workshop / FDP
AICTE ATAL Academy Online FDP on "Soft Computing Techniques" at Government Engineering College(5-10-2020 to 9-10-2020)
ATAL online FDP on "Stress Managment"at Government Engineering College(2-11-2020 to 6-11-2020).
Workshop
Two days workshop on Network Simulation(NS2) ,Organized by Dept of CSE,SVCE.
Two days workshop on IOT & Cloud Computing ,Organized by Dept of CSE,SVCE.
Conferences
Presented a paper on "Key Management using Polynomial Interpolation for MANET" at international Conference on Computing ,communication and Electrical Technologies ,ICCCET-2015 held at Vivekananda Institute of Engineering And Technology,Namakkal-March-2015
Presented a paper on "Multicast key management for secure cloud computing" at International Conference on Recent Advancements in Computing Technology, ICRACT – 2011, held at Bharath University, Chennai, March 2011.
Presented a paper on "Random walk routing in multi-radio multi-channel multi-
hop wireless networks " at National Conference on Emerging Trends In Computer Engineering & Technology, ETCET – 2011, held at Sri Vidya College Of Engineering & Technology Virudhunagar,March 2011.
Additional Responsibilities
NBA Co-ordinator
Website Co-ordinator