Profile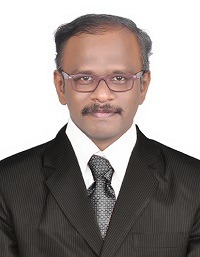 | | |
| --- | --- |
| Name | Dr. A. Sankaran |
| Designation | Assistant Professor |
| Areas of Interest | Marine Engineering, Coastal Pollution, Nanocomposites, Coastal Zone Management |
| Room No. | 10-104 |
| Intercom No. | 514 |
| Mobile | 9952524142 |
| Email Id (Official) | sankarana@svce.ac.in |
| Email Id (Personal) | sankaran.arumugam@gmail.com |
Qualification
B.E –Marine
M.tech – Coastal Management
MEO Class IV (FG-Motor)
PhD – Studies on Catalytic activity of Nanocomposites for coastal pollution management.
Academic Experience
Mohamed Sathak Engineering college
Assistant professor
12.05.2014-27.02.21
Noorul Islam university
Assistant professor
15.07.2013-30.04.2014
Sanmar shipping
Marine engineer
31.10.09-15.03.13
Research & Consultancy
List of Publications
1. Sankaran. A, Kumaraguru. K & Balraj.B, 2020,' Structural and optical behavior of CuO/Ag and CuO/Ag/Au Nanocatalyst synthesized via a novel two step synthesis approach for enhancement of catalytic activity', Journal of Inorganic and Organometallic Polymers and Materials, doi: 10.1007/s10904-020-01655-x, ISSN: 1574-1451, ( Impact Factor: 1.941).
2. Sankaran. A& Kumaraguru. K, 2020, 'The novel two step synthesis of CuO/ZnO and CuO/CdO Nanocatalyst for enhancement of catalytic activity', Journal of Molecular Structure, Vol. 1221, No. 128772, ISSN: 0022-2860,(Impact Factor: 2.463).
3. Sankaran. A, Kumaraguru. K, Balraj. B,sridevi .A & Magesh.R, 2020, 'Investigation on catalytic activity of CuO/La2O3, CuO/Gd2O3 and CuO/La2O3/Gd2O3 Nanocatalyst prepared via novel two step approach' Material science & Engineering B, Vol. 263, pp.114836 (Impact Factor: 4.706).
4. AbdulGafoor,Dhanasekar,SatheeshKumar,Sankaran,Sivaranjani,Sabeena begum, Zunaithur Rehman,2020, 'Elimination of nickel(II) ions using various natural/modified clay minerals A review', Material Today Proceedings, https://doi.org/10.1016/j.matpr.2020.07.500, ISSN:22147853
(Impact factor-0.576)
5. R.Sivarethinamohan,S.Sujatha,Shanmugapriya,Sankaran,AbdulGafoor,Zunaithur Rehman,2020,Impact of air Pollution in health and socio economic aspects: Review on future approach, Material Today Proceedings,
(Impact factor-0.576)
6. A.Sankaran,.K.Kumaraguru,2019"Poly(o-Phenylenediamine)/Ti veneer on 316l Stainless steel bipolar plates for proton exchange membrane fuel cells", Journal of Balkan Tribology Association,Vol.25,No.3,656-676(2019) (Impact factor 0.250)
Conference / Workshop / FDP
 

1

Attended Workshop on "Rehabilitation measures for the Tsunami affected coast of Tamilnadu, Kerala and Pondicherry "Indian Institute of Technology, Madras 4th and 5th February 2008

 

2

Attended Indo-US Summer school on Coastal Environment-Research Cruise onboard ORV- Sager Nidhi South Dakota School of Mines and Technology, Rapid city, USA and Institute for ocean management, Anna University Chennai, India1st June 2008-10th June 2008

 

 

3

Attended Trainers for Trainers and Assessors Maritime Foundation, Chennai 1st July 2013 -13th July 2013

 

4

Invited Lecture in Workshop on "Advanced Nano Characterization techniques as Complimentary tools for Bio-molecular Applications. Department of Bio-Technology, Government of India and Department of Nano Technology,Noorul Islam University

22nd January -7th February 2014

 

5

 

Attended National Weld meet at Mohamed Sathak Engineering College ,Indian Institute of Welding, Chennai Branch 05th September 2014 – 06th September 2014

 

 

6

 

Presented a paper on Upsurge of Artificial intelligence to combat ocean plastic pollution in National Conference on Greener, Safer and Sustainable shipping-Vels Institute of Science, Technology and Advanced studies 20th September 2019

 

7

 

Attended Faculty Development Program on "Materials for Thermal and Renewable Energy Research" from 20th May 2020 to 24th May 2020, Department of Mechanical Engineering, Sri  Sairam Institute of Technology, Chennai.
Additional Responsibilities
Industrial Objective Department Coordinator.
Student Association Department Coordinator.
CIP Criteria 3 Coordinator.
Time Table Coordinator
Faculty Advisor of I-Year Marine.
Achievements
1. Gold Medalists in the M.tech Programme conducted by the Institute for Ocean Management in College of Engineering, Guindy
2. Honored to do Project work of my P.G Programme in Uppsala University, Sweden under Linnaeus Palme Scholarship Programme.
3. Gold Medalist in District Level Table Tennis tournament for the four consecutive years(1996-1999)