Profile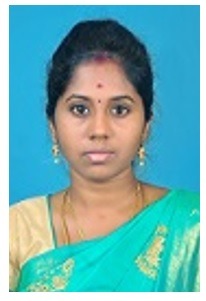 | | |
| --- | --- |
| Name | Mrs. R. Linekha |
| Designation | Teaching cum Research Assistant |
| Areas of Interest | BIOTECHNOLOGY |
| Room No. | |
| Intercom No. | 581 |
| Mobile | 6381528475 |
| Email Id (Official) | linekha@svce.ac.in |
| Email Id (Personal) | rlinekha@gmail.com |
Qualification
B.Tech Biotechnology, St. Perter's Engineering College, Avadi.
M.Tech Biotechnology, Sri Venkateswara College of Engineering, Sriperumbudur
Diploma course in Bioinformatics, Biozone Research Technologies.
Academic Experience
Resource person, ARAM IAS Academy (Apr 2016 – Jun 2018)
Teaching faculty, Manidhaneyam IAS Academy (Apr 2019 – Nov 2021)
Research & Consultancy
Research:
Sumitha, V., Linekha, R., & Sivanandham, M. (2017). Production of protease from biodiesel waste derived semipurified glycerol, Indian Journal of Biotechnology, 16(3), pp.387-395.
Conference / Workshop / FDP
National Conference:
Participated in National level conference on "Emerging trends in environmental biotechnology", SVCE, (Feb. 28, 2012)
Participated in National conference on "Recent trends in basic sciences: translation from bench to bedside", Frontier mediville, (Jan. 21, 2012)
Presented paper in National conference on "Advancements in renewable energy technologies", Adhiparasakthi Engineering College, (Apr. 11, 2012)
Presented Paper in National level Technical Fest conducted by the Bioinformatics Division of SBCBE, VIT university, Vellur. (Pinnacle 2008)
Presented poster in in National level Technical Fest conducted by the Bioinformatics Division of SBCBE, VIT university, Vellur. (Pinnacle 2008)

International Conference:

Presented Paper in 4th international conference on 'science, Engineering and technology (SET)", VIT, Vellore, (May. 3-4, 2012).

Workshop:

Participated in national workshop on "Currents trends in the biotechnology of vaccines", SVCE, (Oct. 20, 2011).
Participated in national workshop on "Current trends in drug designing by bioinformatics tools, SVCE (Feb. 24 -25, 2011)
Additional Responsibilities
In-charge – Instrumentation and Analytical Lab
In-charge – Research Lab
Achievements
Rank holder at all India level in national level biotechnology talent search examination-2009 (Junior), (Feb 1, 2009)
Qualified GATE (BIOTECHNOLOGY) with GATE score of 390 in 2014