Profile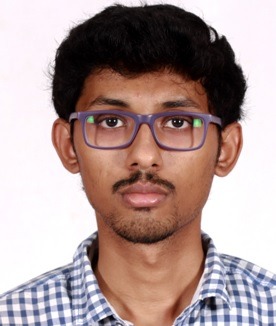 | | |
| --- | --- |
| Name | Mr. S. Bharadwaj |
| Designation | Assistant Professor |
| Areas of Interest | Power Electronics & Drives, Electric Vehicles |
| Room No. | 3107 |
| Intercom No. | 264 |
| Mobile | 9566027816 |
| Email Id (Official) | bharadwajs@svce.ac.in |
| Email Id (Personal) | bharad1996@gmail.com |
Qualification
M.E, Power Electronics and Drives at SVCE, Anna University, 2019-21. First Class with Distinction.
B.E, Electrical and Electronics Engineering, Anna University, 2014-2018.
Academic Experience
Junior Engineer at VVDN Technologies pvt ltd, 2018 (6 months)
TGT, Shree Niketan Patasala, Feb, 2022 to Aug, 2022.
Assistant Professor, SVCE – Sep, 2022 to till date.
Courses Handled
Basic Electrical and Electronics Engineering
Electrical Practices Lab
Electrical Machines and Drives Lab
Research & Consultancy
National Conference:
Bharadwaj S, "Design and Analysis of Non-Isolated Multi Input Multi Output DC-DC Converters for EV Applications" in E-Proc. International Conference on "Smart Technologies in Electric Vehicles and Power Grid", SVCE, March 2021.
Bharadwaj S, "Integrated Single Input Dual Output DC-DC Converters for EV applications" AICTE sponsored International conference on Smart Materials & Emerging Technologies for Industry 4.0, SVCE, 2020.
Conference / Workshop / FDP
Organized:
Guest lecture session on "Motivational story of an inspiring CEO" on 17th February, 2023.

Workshop:

PLC & Automation on 27th and 28th Dec, 2022, Dept of Mech Engg, SVCE
Renewable energy and Plug-in integration into Microgrid, OP Jindal University, Chandigarh from November 14-18, 2022.
Curriculum Design Workshop on 18th October, 2022, SVCE.

FDP:

Renewable energy and plug-in vehicle integration in smart grid from 14/11/22 to 18/11/22, conducted by OP Jindal university, Chandigarh
Intellectual property rights (IPR) and patents and design filling" online workshop by Dr. Pankaj Borkar, Dy. Controller of patents and design, IPO Mumbai. Organized by IIC, SVCE.
IIC SVCE Chennai:Ministry of Education Innovation Cell(MIC) presents leadership talk series with Prof.T. G.Sitharam, Chairman, AICTE on 30-01-2023
Additional Responsibilities
Department Coordinator of Institution Innovation cell (IIC), SVCE.
Newsletter In-Charge, Dept. of EEE.
Placement Coordinator, Dept. of EEE.
Faculty advisor for 2019-2023 batch
Project Guide for the final year student (2022-23) batch. Project titled "Isolation of 315 MVA Power Transformer testing based on IR and Tan Delta value".
Achievements
Awarded with an intramural project grant of Rs. 10,000/- for carrying out PG project titled "Design and Analysis of Non-Isolated Multi Input Multi Output DC-DC Converters for EV Applications" at SVCE in 2021.