Profile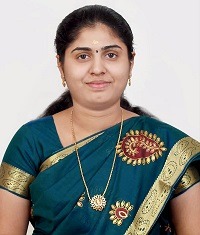 | | |
| --- | --- |
| Name | Ms. R. Aiyshwariya Devi |
| Designation | Assistant Professor |
| Areas of Interest | Computer Science & Engineering |
| Room No. | |
| Intercom No. | |
| Mobile | 7867088235, 9790272045 |
| Email Id (Official) | aiyshwariya@svce.ac.in |
| Email Id (Personal) | aiyshwariyadevi@gmail.com |
Qualification
Pursuing Ph.D. from Dr. MGR Educational and Research Institute.
Completed M.E CSE from PSNA College of Engg and Technology from Anna University affliation- 2014 – 83% First Class
Completed B.Tech IT from R.V.S College of Engg and Technology from Anna University affliation – Chennai 2010 – 75% Distinction
Academic Experience
Working as Assistant Professor in Sri Venkateswara College of Engineering from 5th September 2023 to Till now
Worked as Assistant Professor in PSNA College of Engineering & Technology from 1st August 2022 to 31st July 2023
Worked as Assistant Professor for Dr. MGR Educational & Research Institute – From 12th Sept 2014 –31st December 2021.
Worked as Assistant professor in PSNA College of Engg. & Tech – From Dec 2011 to April 2014.
Worked as Assistant professor in SBM College of Eng. and Tech from Jan 2011 to Dec 2011.
Courses Handled
Data Structures and Algorithms (UG)
Object Oriented Programming (UG)
XML and Web Services (UG)
Computer Networks (UG)
System Software (UG)
Operating Systems (UG)
Pervasive Computing (UG)
Object Oriented programming and Data Structures(UG)
UNIX (UG)
Computer Programming (UG)
Object Oriented Analysis and Design (UG)
Java Programming. (UG)
Web Technology (UG)
System Software and Operating Systems (UG)
Software Testing and Quality Assurance (PG)
Multimedia systems (PG)
Design thinking
Machine learning
IOT
Research & Consultancy
Pursuing Doctorate in the field of IoT Device Security
Conference / Workshop / FDP
National Conference: 7
Presented a paper entitled "Energy Efficient Cluster Head Selection Scheme for MANETS using FAHP and FMPDM- in 9th National conference on New Generation Technologies on Computing and Communication (NGTCC'14).in PSNA College of Engineering and Technology on April 2014.
Presented a paper entitled "Vehicle Tracking System by GPS For a Closed Group Users"- in NCICT 18 National conference on Innovative Computing Techniques (NCICT).in Dr.M.G.R. Educational and Research Institute.
Presented a paper entitled "An Electronic Aid for Visually impaired with Navigation Assistance"- in NCICT 19 National conference on Innovative Computing Techniques (NCICT).in Dr.M.G.R. Educational and Research Institute.
Presented a paper entitled "Trust based Service management for Peer-to-Peer Systems"- in NCICT 19 National conference on Innovative Computing Techniques (NCICT).in Dr.M.G.R. Educational and Research Institute.
Presented a paper entitled "WINDOWS PERSONAL ASSISTANT"- in NCICT 23 National conference on Innovative Computing Techniques (NCICT-23).in Dr.M.G.R. Educational and Research Institute.ISBN 978-93-95054-52-2
Presented a paper entitled "PARKING SLOT RESERVATION SYSTEMs"- in NCICT 23 National conference on Innovative Computing Techniques (NCICT-23).in Dr.M.G.R. Educational and Research Institute.ISBN 978-93-95054-52-2
Presented a paper entitled "FREIGHT TRACKING AND SURVEILLANCE SYSTEM- in NCICT 23 National conference on Innovative Computing Techniques (NCICT-23).in Dr.M.G.R. Educational and Research Institute.ISBN 978-93-95054-52-2

International Conference: 5

Presented a paper entitled,"IOT Based Secure and Efficient Health Care Management System" International Journal of Engineering Research in Computer Science and Engineering (IJERCSE) Vol 3, Issue 7, July 2016, ISSN 2394-2320
Presented a paper entitled "Energy Efficient Cluster Head Selection Scheme for MANETS- A Survey", International Conference on Design and Applications of Structures, drives, communicational and computing systems (ICDASDC'13), in KLN College of Information Technology, Nov 2013.
Presented a paper entitled "Energy Efficient Cluster Head Selection Scheme using FMPDM for MANETS- The International Conference on Innovations in Engineering and Technology (ICIET'14) in KLN College of Engineering and Technology, March 2014
Presented a paper entitled "Improved IoT Device Security using Hybrid Algorithm with Optimal Values "in IEEE International Conference on Advances in Computing, Communication, and Applied Informatics (ACCAI 2023) in St. Joseph College of Engineering and Technology in May 2023.
Presented a paper entitled "IOT Device Security for Smart Card Fraud Detection for Credit Cards " in the IEEE International Conference on Electrical Electronics Communication Computing and Automation (ICAECA-23) in St. Joseph College of Engineering and Technology in May 2023.

International Journals : 5

Published a paper entitled "Security and Energy Efficient Communication Scheme in Mobile Ad Hoc Networks" International Journal of Advanced and Innovative Research, Volume 2, Issue 4, April 2013.
ublished a paper entitled "FAHP and FMPDM technique using MANET for Improving Energy Efficiency in Cluster Head Selection" International Journal of Advanced and Innovative Research, Volume 3, Issue 11, Nov 2014.
Published a paper entitled " Development of Advanced IoT Devices using ECC-LSTM for an Enhanced Device Security" International Journal of Advanced Science and Technology, volume 29(9s),2020.
Published a paper entitled " An IOT Security Based Electronic Aid for Visually Impaired detection with Navigation Assistance System" International Journal of Advanced Science and Technology, Vol. 29, No. 8s, (2020), pp. 2991-2996
Published a paper entitled " Enhancement of IoT device security using an Improved Elliptic Curve Cryptography algorithm and malware detection utilizing deep LSTM "in High Confidence Computing Elsevier Open access March (2023)

Book Publications : 2

R. Aiyshwariya Devi, 'Security challenges in Internet of things " in Technologies and systems for E-Collaborations during Global Crises web of science book series, 2022, Vol 306, PP 1799896404
R. Aiyshwariya Devi, Dr J Arun Kumar, Ms Shruthi Anand "Etcetera In Research World ", book published by department of research in Dr.M.G.R Educational and Research Institute, 2017, vol9, PP 978-81-937145-3-9

Patent Publications : 1

Published a patent namely Food Quality Detection using Cloud and AI-IOT Sensors in June 2023
Certifications :
Cisco Certified Network Associate (CCNA)
Cisco Certified Introduction to Internet of Things
Cisco Certified Introduction to Cybersecurity
Cisco Certified Cybersecurity Essentials
IBM Certified cognitive class "Block Chain Essentials"
Google Cloud Certified Introduction to Cloud identity
Google Cloud Certified Introduction to Project Management
Google Digital marketing Certification
Indian Institute of Technology Course Internet of things 12 weeks
GUVI Certification for Deep learning and Machine Learning
UGC Approved Short term Professional development NEP-2020 Course
Additional Responsibilities
Faculty Advisor for Ist year A sec From 41 to 60