Profile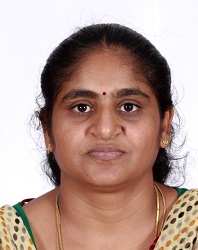 | | |
| --- | --- |
| Name | M Sasikala |
| Designation | Assistant Professor |
| Areas of Interest | Nano Electronics |
| Room No. | |
| Intercom No. | |
| Mobile | |
| Email Id (Official) | msasikala@svce.ac.in |
| Email Id (Personal) | |
Qualification
Pursuing Ph.d at anna university
M.E(PED) in SVCE, Sriperambudur (Anna University)
B.E in Government College of Enginnering, SALEM (Periyar University)
Academic Experience
FEB 2005 to May 2010, Lecturer, EEE Department, SVCE
June 2010 to tll date, Assistant Professor, EEE Department, SVCE
Courses Handled
UG:
Fundamentals of nanoscience
Analog circuits
Electromagnetic theory
Electrical Machines-I
Solid State Drives
Power Electronics
Electrical Drives and control
Linear Integrated Circuits and its Applications
Basic Electrical and Electronics Engineering
Control Systems
Electrical Engineering
Electronic Circuits
Electron Devices
Object Oriented Programming
LABs:
Basic Electrical and Electronics Engineering Laboratory
Power Electronics Lab
Electrical Engineering Lab
Linear and Digital integrated Circuits Lab
Electrical Engineering and Control System Lab
Measurement and Instrumentation Lab
Electrical Machines Laboratory
Microprocessor and Microcontroller laboratory
Control System Lab
Engineering Practices Lab
Electron Devices and Circuits Lab
Electric Circuits Lab
Electrical Machines Lab-1
Research & Consultancy
Participated and presented the research poster in the National Symposium on Nano Science and Technology(NSNST 2018) conducted at the Centre for Nano Science and Engineering, Indian Institute of Science, Bangalore, from 20 to 22 June 2018.
Sasikala M and Jeyalakshmi A, "Design and Implementation of Battery / Ultracapacitor Hybrid Energy storage System for Electric vehicle",
presented at the National Conference on Communication Technology Interventions for Rural and Social Development (NCCTIRD-2012) pp.592-597,
organised by Sri Krishna college of Engineering and Technology, Coimbatore.
Conference:
Gunasekaran N.P,Sasikala M "comparative analysis of soft switching single
switch DC-DC converter with lossless passive snubber" proceedings of IEEE
sponsored International conference on Innovations in Information Embedded
and communication systems ICIIECS'16 at Karpagam College of
Engineering,Coimbatore,March 16.
Conference / Workshop / FDP
Participated and presented the research poster in the International workshop in Crystalline Materials and Applications (IWCMA-2019) from 3-5th January 2019 organised by Crystal Growth Centre, Anna University Chennai.
Attended seven Days Faculty Development Programme on "Microprocessors and Microcontrollers" Organized by Sri Venkateswara College of Engineering from 7th to 14th June 2018.
Participated and Presented in the one day workshop on " NANO SCIENCE AND NANO ENGINEERING", Organized by IEEE student branch, SVCE on 7th march 2017.
Attended a Faculty Development Programme on EE6504-Electrical Machines-II at College of Engineering, Guindy,Anna University during 15th – 21th May,2017.
Attended a International workshop on advanced functional Nanomaterials-4th edition(IWAN 4) at Centre for Nanoscience and Technology,Anna University,Chennai during 22nd -24th March,2017.
Attended a Three Days Summer Internship Program on Nanotechnology organized by Department of Nanoscience and Technology, Sri Ramakrishna Engineering College,Vattamalaipalayam ,Coimbatore,from June 15th to 17th,2016
Attended the short term course on Modeling,simulation and chacterization of Nano transistors at IIT Kanpur during Oct 26 to Oct 30 ,2015.
Attended a Three days training on MiPower ver.8.0-Power System Analysis Package at SVCE Feb.19-21,2014.
Attended a Faculty Development Program on Recent Advancements in Generation and Utilization of Renewable Energy at K.S.R College of Engineering, Tiruchengode during 15th – 28th May,2013.
Attended a Two days workshop on Electrical and Electronic Circuits Engineering using NI Technology at NIELIT, National Instruments, Chennai on 28th & 29th Dec., 2012.
Organised the two days workshop on "Image processing frame work using FPGA",on 3rd and 4th February 2012.
National Workshop on "Hardware Implementation of power Electronics and Drives",SRM University ,Kattankulathur on 15th and 16th September 2011.
National Workshop on "Matlab and its Application", NITTTR,Tharamani,Chennai on 1/12/2007 and 2/12/2007
Participated in training program on "Instructional design and delivery" conducted by SVCE during January 4th -6th, 2007.
Additional Responsibilities
Faculty advisor for I year EE B (roll no: 42-56)
Electronic Devices and circuits
laboratory In-charge
Department level Anna university Inspection coordination
NAAC Criterion 4-Department coordinator