Profile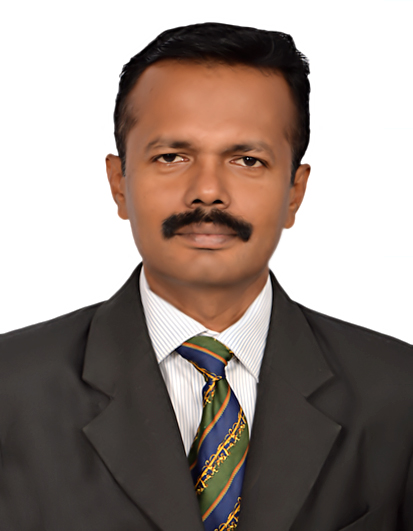 | | |
| --- | --- |
| Name | BALASUBRAMANIAN A |
| Designation | Assistant Professor |
| Areas of Interest | Combustion in Engines, Automotive Pollution Control, Engine Design |
| Room No. | 9105 |
| Intercom No. | 454 |
| Mobile | 9443508084 |
| Email Id (Official) | abals@svce.ac.in |
| Email Id (Personal) | |
Qualification
Ph. D (Pursuing) – Anna University, Chennai
M.E.- Mechanical Engineering – 2000 – Anna University, Chennai
B.E Mechanical Engineering – 1996 – Manonmaniam Sundaranar Univeristy
Academic Experience
SVCE, Sriperumbudur-Senior Lecturer
Courses Handled
Theory Subject Handling
Manufacturing Technology and Systems
Automotive Engine Components Design


Laboratory Handling

Manufacturing Technology Laboratory


Theory Subjects Handled

Fluid Mechanics and Machinery
Applied Thermodynamics andHeatTransfer
Engine Components Design
Engineering Thermodynamics
Automotive Petrol Engines
Fuels, Lubricants and Combustion
Engineering Graphics
Thermal Engineering
Basic Mechanical Engineering
Heat and Mass Transfer
QualityControl&ReliabilityEngineering
Design of Machine Elements


Laboratory Handled

Fluid Mechanics & Machinery Laboratory
Basic Workshop Laboratory
Engine Performance and Emission Testing Laboratory
Automotive Electrical and Electronics Laboratory
Thermal Engineering Laboratory
Research & Consultancy
INTERNATIONAL JOURNALS
A. Balasubramanian and J. Venkatesan, G. Nagarajan, B. Gautham (2018),"Investigation of energy availability for vapour absorption refrigeration system from engine exhaust", Int. J. Heavy Vehicle Systems, Vol. 25, Nos. 3/4.
Balasubramanian Andi, Venkatesan Jayaraman, Suresh Sivan, Mariappan Vairavan (2018),"Experimental analysis of triple fluid vapour absorption refrigeration system driven by electrical energy and engine waste heat", International Journal of Thermal Science, Published online:28-04- 2018
J. Raju,A. Balasubramanian, M. Gajendiran, N. Madhan Raj (2016),"Investigation of Performance and Emission Characteristics using Low Reactivity Fuel and Biodiesel Blended Nanoparticles in Diesel Engine", International Journal of Engineering Research & Technology (IJERT) ISSN: 2278-0181, Vol. 5 Issue 03
A. Balasubramanian, J. Venkatesan, and B. Gautham (2015),"Feasibility Study On Waste Heat Recovery In IC Engine For Operating Triple Fluid Absorption Refrigeration System", International Journal of Energy, Environment and Economics Volume 23.
Venkatesan, D. Balasubramanian and D. Balaji (2015),"Effect of Charge Cooling on Engine Performance and Emission", International Journal of Applied Engineering Research [ISSN: 0973-4562], Vol.10, Issue 63, pp. 216-221.
M. Ayyappan, M.Gajendran, A.Balasubramanian J.Venkatesan, (2015),"Performance of latent heat solar thermal energy storage system", International Journal of Applied Engineering Research, ISSN 0973-4562 Vol. 10 No.63.
Balaji Dhanapal, Venkatesan J, Palani S, Kumaraswamy A, Balasubramanian A (2014) "Feasibility Analysis Of Fish Oil Bio Diesel Blend as a Stationery and Automotive Diesel Engine Fuel" Pensee Journal, Vol 76, No.4.
Conference / Workshop / FDP
FDP / Workshops Attended
Attended a Faculty Development and Training Program on "Automotive Air – Conditioning" during 25th Nonember to 30th November 2019 at Automobile Engineering Department, Sri Venkateswara College of Engineering, Pennalur, Sriperumbudur, Chennai.
Attended a Faculty Development and Training Program on "Engineering Thermodynamics" during 31st May 2019 to 06th June 2019 at Automobile Engineering Department, Sri Venkateswara College of Engineering, Pennalur, Sriperumbudur, Chennai.
Attended a Faculty Development and Training Program on" AT6603 – Two and Three Wheelers" during 27th Nonember to 05th December 2017 at Automobile Engineering Department, Sri Venkateswara College of Engineering, Pennalur, Sriperumbudur, Chennai.
Attended AICTE sponsored Two Week Faculty Development Programme on " Theory and Performance Evaluation of Automotive Vehicle Subsystems Using Modern Tools and Equipment" Organized by Department of Automobile Engineering, Sri Venkateswara College of Engineering, Pennalur, Sriperumbudur, Chennai, during 6th November to 21st November 2017.
Attended two days Faculty Development program on �Engineering Thermodynamics (ME6301)" at M.N.M Jain Engineering College, Thoraipakkam during 15th to 16th May 2017.
Attended two days Faculty Development program on Strength of Materials using COMSOL Multiphysics 04th &05th November 2016, Rajalakshmi Engineering College, Thandalam, Chennai.
SAE Mobility Conference 2000
Emerging Trends in Information
Technology in Automotive Industries
Two-Day Workshop on Fuel Cells
Bio Fuel – Future fuel for Transportation
Additional Responsibilities
Faculty Advisor-I Year
Class Committee Chairperson – III year
Fuels And Lubricants lab Incharge
Professional Objective Coordinator
Practical Examinations Coordinator
AICTE Coordinator
AMC Member
PMC- I Year
Department EDC Coordinator
Industry Innovation Interactive cell Coordinator
Module Coordinator for Thermal Engineering