Profile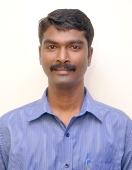 | | |
| --- | --- |
| Name | Dr.R.Palani |
| Designation | Associate Professor |
| Areas of Interest | Separation Process Electrochemical Engineering Environmental Engineering Materials & Biosciences |
| Room No. | 6106 |
| Intercom No. | 551 |
| Mobile | 9840633197 |
| Email Id (Official) | rpalani@svce.ac.in |
| Email Id (Personal) | |
Qualification
Ph.D. – Chemical Engineering(2010 – 2012)
Anna University,Chennai
M.E. – Chemical Engineering (2002 – 2004)
Annamalai University, Tamilnadu
B.Tech – Chemical Engineering (1998 – 2002)
Pallavan College of Engineering, Madras University.
Diploma – Industrial Safety (2002 – 2003)
Annamalai University,Tamilnadu.
Memberships
Life Member-Indian Institute of Chemical Engineers
Academic Experience
Academic Experience
Working as a Associate Professor at SVCE from July 2013 onwards
Assistant Professor in SVCE from July 2012 to June 2013
Lecturer 03.01.2005 – 04.04.2010; St.Peter's College of Engineering, Avadi, Chennai 6000054
Guest Faculty at Anna University from july 2010 – Dec 2010.
Courses Handled
Fluid Mechanics
Mass Transfer
Heat Transfer
Mechanical Operations
Professional Ethics
Chemical Process Plant Safety
Chemical Process Calculations
Environmental Science and Engineering
Mass Transfer Lab
Heat Transfer Lab
Fluid Mechanics Lab
Process Equipment Design – I Lab
Wastewater Engineering
Research & Consultancy
Research:
International Publications :
• R.Palani, N.Balasubramanian. "Electrochemical treatment of methyl orange dye wastewater by Rotating Disc Electrode: Optimization using response surface methodology" Coloration technology, Vol.128, 2012.
• Ibrahim, D. S., Veerabahu, C., Palani, R., Devi, S., & Balasubramanian, N. (2013). "Flow dynamics and mass transfer studies in a tubular electrochemical reactor with a mesh electrode". Computers & Fluids, 73, 97-103.
• R Palani, A AbdulGani, N Balasubramanian "Treatment of tannery effluent using a rotating disc electrochemical reactor" – Water Environment Research, 2017
• Karthick Senthilkumar, Sumisha Anappara, Haribabu Krishnan & Palani Ramasamy (2020) "Simultaneous power generation and Congo red dye degradation in double chamber microbial fuel cell using spent carbon electrodes", Energy Sources, Part A: Recovery, Utilization, and Environmental Effects, DOI: 10.1080/15567036.2020.1781978
• Karthick S. , Sajal Wankhede , Vishnu Prasad , Palani R. and Haribabu K "Experimental and kinetic study on the treatment of synthetic and real pharmaceutical wastewater by electrocoagulation" J. Indian Chem. Soc., Vol. 97, March 2020, pp. 326-331
• G.Thayanidhi, R.Palani , N.Meyyappan, R.Parthiban, "Carbon dioxide capture by adsorption using sulfur doped carbon material" Environmental Science An Indian Journal, ESAIJ, 12(2), 2016 [065-069]
• Vishal Bellie Subramani , Suganya Baskaran , Palani Ramasamy, Swaminathan Detchanamurthy and Parthiban Rangasamy "Effect of critical operational parameters of a biofilm-based bio-filter reactor in enhancing the surface elimination capacity of toluene" Tierärztliche Praxis, Vol 40, 2020
• Arun Prem Anand Natarajan, Palani Ramasamy, "Sonocatalytic Tannery Effluent Degradation—Response Surface Methodology and Particle Swarm Optimization Embedded Artificial Neural Network Modeling Approach" Clean Soil Air Water, Volume50, Issue1, January 2022, 2100095
Consultancy:
• NIL
Conference / Workshop / FDP
Organized an  AICTE Sponsored short term course on "Instrumental Methods of Analysis" held at SVCE from 04th to 9th November 2019.
Attended an One day National Conference on "Technological Innovation on Clean Energy Generation and Environmental Remediation" held at SVCE on 04th October 2019.
Short term course on Nanotechnology: Opportunity and challenges at NITTTR, Chandigarh from 4.5.2009 to 8.5.2009
Attended the 9th petrotech Summer School on Petroleum Refining and Petrochemicals conducted by IndianOil – R&D, IiPM and Petrotech at IndianOil Institute of Petroleum Management (IiPM),
Gurgaon from 2nd to 6th June 2014
Attended National level Seminar on The Miracle of Material Choice towards Safety and Environment in Process Industries at SVCE during September 6th & 7th 2013.
Participated two days workshop on Advanced Analytical Techniques for Material Characterizations during 19th & 20th July 2011 organized by SRM University, in association with CLRI.
Participated a short term course on Instructional design and Delivery conducted by NITTTR Staff development Programme by SPEC.
Attended AICTE sponsored short term course on Air Quality Modelling held between 10.11.2014 to 15.11.2014 at IITM.
Workshop, Seminar and conference organized: Coordinator for DRDO sponsored National Conference on Emerging Trends and Innovations in Chemical Engineering, 27th-28th March 2009,
Department of Chemical Engineering, St. Peter's Engineering College, Chennai.
Coordinator for DRDO sponsored National Workshop on Alternate Fuels & Challenges Ahead in Chemical Engineering, 3rd to 5th November 2008, Department of Chemical Engineering, St.
Peter's Engineering College, Chennai.
Coordinator for National level Seminar on Computational Techniques and Practices for Simulation of Fluid Flow and Heat Transfer in Chemical Engineering, 26th-27th September 2014,
Department of Chemical Engineering & IIChE-SVCE student chapter.
Additional Responsibilities
• Unit Operations – Module Coordinator
• Class Committee Chairperson
• Faculty Advisor
• CH ISO Coordinator
• NBA / NAAC/ AU Affiliation
• IQAC (AQAR) Coordinator
• EWB Faculty Advisor
Achievements
• Received the TNSCST (Tamilnadu State Council For Science & Technology) students project during 2019-20