Profile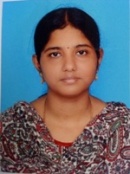 Name
Maadhuri M
Designation
Assistant Professor
Areas of Interest
Photovoltaic system design
Power quality
Hybrid Electric vehicles
Power electronic converters

Room No.

Room No:3215

Second floor

EEE Dept

SVCE. Extn:251/263

Intercom No.
Mobile
Email Id (Official)
maadhuri@svce.ac.in
Email Id (Personal)
Qualification
Education  
Master of Engineering [ Power Electronics and Drives ] : 9.44 CGPA
College of Engineering, Anna University, Guindy [2011] GOLD MEDAL
Bachelor of Engineering [Electrical and Electronics Engg.] : 83 %
A.C. College of Engg. and Tech. Karaikudi, Anna University [2008] GOLD MEDAL
GATE Score of 92.18 percentile (GATE 2008,Subject code:EE)
NPTEL score: 96/100 Elite with gold medal (1% topper) in Sept 2017 exams in Basic Electric circuits.
NPTEL score: 60/100 Elite in April 2018 exams in Numerical methods finite difference approach
NPTEL score: 89/100 Elite (1% topper) in October 2017 exams in Design of Photovoltaic Systems.
Academic Experience
Working as Assistant professor EEE, at SVCE from June 2017 onwards.
Worked as Design Engineer R&D at ESAB India Limited fron june 2011-june 2014.
Deputed to ESAB Global R&D, Goteborg, Sweden on an onsite assignment for 45 days.
Courses Handled
Electric Power system
Basic Electrical and Electronics Engineering
Electric circuit Analysis lab
Electron devices and circuits
Electron devices and circuits lab
Engineering practices lab
Research & Consultancy
Publications/Presentations  
Current mode control of Fuel cell fed Interleaved boost converter. [ ASME Conference on Fuel cells, Aug 2011]

Interleaving of boost converter for fuel cell based hybrid vehicular applications [ National Conference on renewable energy systems, KSR college of Engineering, Tiruchengode]
Conference / Workshop / FDP
Trainings undergone
Underwent training at Mettur Thermal Power Station
Underwent training at Heavy Alloy Penetrator Project (Ministry Of Defence)
Attended a two day workshop on GRID CONNECTED ROOF TOP PHOTO VOLTAIC SYSTEMS at SVCE, Sriperumbudur
Attended a two day workshop on SOLAR TECHNOLOGY at VIT,Chennai.
Additional Responsibilities
Faculty advisor 2017-2021 batch
Assist for website updation
Assist for vacation roster preparation
Assist for BoS co-ordination