Profile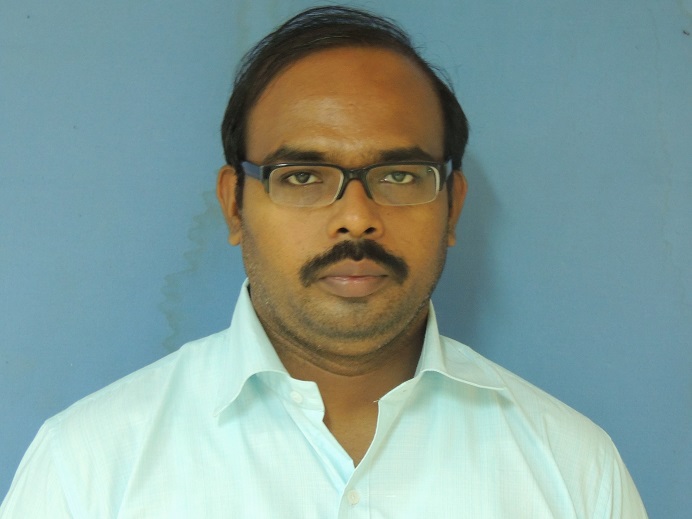 | | |
| --- | --- |
| Name | Mr. S.Jai Ganesh |
| Designation | Assistant Professor |
| Areas of Interest | Computational Fluid Dynamics Process Modeling & Simulation |
| Room No. | 6108 |
| Intercom No. | 551 |
| Mobile | |
| Email Id (Official) | sjaiganesh@svce.ac.in |
| Email Id (Personal) | |
Qualification
M.Tech. – Computational Fluid Dynamics (2010 – 2012)
U.P.E.S, Dehradun, Uttarakhand.
B.Tech. –Chemical Engineering (2000 -2004)
Madras University, Chennai, Tamil Nadu
Academic Experience
Six years of experience in Chemical Industries.
One year of experience as Project Engineer at IIT Jodhpur.
Assistant Professor at SVCE from June 2015
Courses Handled
Mechanical Operations
Advanced Process Control
Computational Fluid Dynamics for Chemical Engineers
Process Modeling Simulation Laboratory
Process Control Laboratory
Mechanical Operations Laboratory
Mechanics of Solids For Chemical Engineering 
Fertilizer Technology
Petroleum Technology
Chemical Process Plant Safety
Environmental Science & Engineering
Transport Phenomena
Fluid Mechanics
Heat Transfer
Process Equipment Design II
Advanced Transport Phenomena
Research & Consultancy
Research Publications
Jai Ganesh, Samir K. Das, " Modeling of a Groundwater Mound in a Two-Dimensional Heterogeneous Unconfined Aquifer in Response to Precipitation Recharge ", Journal of Hydrologic Engineering, 2015,Vol.20, Issue 7, pp. 04014081.1-12
Consultancy
Consultancy work for Model making and simulation is completed for M/s. IndCzech Engineering Private Limited, Chennai, with value of Rs.34950/-

Consultancy Work : CFD Analysis Of Raw Gas Heater For M/s. Thirumalai Chemicals Limited, Ranipet during 2017-18, with the value of 1.67 lakhs rupees.
Conference / Workshop / FDP
Workshops Attended
Participated Online FDP, on "VIRTUAL LABS", organised by NITK Surathkal, during 06th September 2021.
Attended AICTE – ATAL,Online Elementary FDP on "Artificial Intelligence and Machine Learning with Data Science" organised by BNCE, Maharashtra, during 14th to 18th July 2021.
Attended online Workshop on "Operations Research using R", organised by VIT vellore, during 18th & 19th June 2021.
Participated in online Workshop on "Documenting Technical Reports in LATEX", organised by SVCE during 1st to 5th June 2021.
Paper presented in International Conference on "Smart Materials & Emerging Technologies for Industry 4.0" organised by SVCE, during 16th & 17th October 2020.
Attended One Week online Workshop on "DWSIM Advanced"conducted by IIT Bombay, during 16th to 25th August 2020.
Attended QIP titled "Modelling and Simulation of Energy System" conducted online by IIT Roorkee, during 11th to 15th January 2021.
Attended two week online FDP on "Environmental and Sustainable Chemical Engineering", organised by Pondicherry Engg College, during 10th December to 23rd December 2020.
Attended short term course on "Concepts in Chemical Reaction Engineering" held at IISc from 10 – 14 June 2019.
Participated in Workshop on "Thin Film Deposition, Characterization and their Advanced Applications" held at SVCE, during 9th & 10th May 2019.
Participated in Online FDP on MATALB for Data Scientists,organised by SVCE, from 5th April to 9th April 2019.
Attended an  AICTE Sponsored short term course on "Instrumental Methods of Analysis" held at SVCE from 04th to 9th November 2019.
Attended an One day National Conference on "Technological Innovation on Clean Energy Generation and Environmental Remediation" held at SVCE on 04th October 2019.
Two days Workshop on "Learn & Explore MedTech", on 14/09/2018 to 15/09/2018, at HTIC, IITM Research Park, Chennai.
Hands-on Workshop in Data Analytics using R, on 8 & 9 th March 2018, at M/s GYAN DATA Pvt. Ltd, IITM Research Park, Chennai.
Seminar on "Software Packages for Dynamic Modeling and Distributed Control System" on 16th and 17th March, 2018, at Sri Venkateswara College of Engineering, Tamil Nadu.
Participated in Asian Symposium on Computational Heat Transfer and Fluid Flow (ASCHT2017), at IITM on 10th – 13rd December, 2017.
"Hands-on training on Simulation of Heat Exchanger – Design and Performance" at Kongu Engineering College, Perundurai, Erode, Tamil Nadu, on 19–08–2017.
"11 Summer School on Petroleum Refining & Petrochemicals" held on 6th to 10th June 2016 at the Indian Oil Institute of Petroleum Management (IiPM), 83, Institutional Area, Sector-18, Gurgaon.
Two days national level seminar on "Technological Advancements in Fuel Cell Research" on 9th and 10th September, 2016, at Sri Venkateswara College of Engineering, Tamil Nadu.
Seven days FDTP on "Fluid Flow Operation" on 19th to 25th December 2016 at Anna University, Tiruchirappalli, Tamil Nadu.
International Workshop on "Design of Sub-systems for concentrated solar power technologies",16th to 22th December 2013 at IIT Jodhpur.
Seminar entitled "Advances in Computational Methods for Simulation of Transport Processes in Engineering" was conducted during 24th- 26th June,2015, at Sri Venkateswara College of Engineering, Tamil Nadu
Additional Responsibilities
Design – Module Member
Faculty Advisor II Year B1
Process Control Lab In-charge
CAT Coordinator
PALS-VLAB Coordinator
Achievements
Received an 

Intramural research fund from SVCE management for UG student project work for the title "Experimental investigation of yield using lab scale Reactive Distillation apparatus" in the academic year 2018-19.

TNSTC Student Project 2017-18: Co-guide for the title "Enrichment of geraniol composition in palmorosa oil using simultaneous microwave-assisted extraction and hydro- distillation". 

Received an 

Intramural research fund from SVCE management for UG student project work for the title "Experimental validation of ethanol recovery from fermenter product using dibutyl phthalate" in the academic year 2016-17.

Selected through INAE Scheme "Mentoring of Engineering Teachers by INAE fellows" and received mentorship from INAE Fellow for duration of two months and worked on the project titled "Study of rheological behavior of fluids in tanning process using computational fluid dynamics"