Profile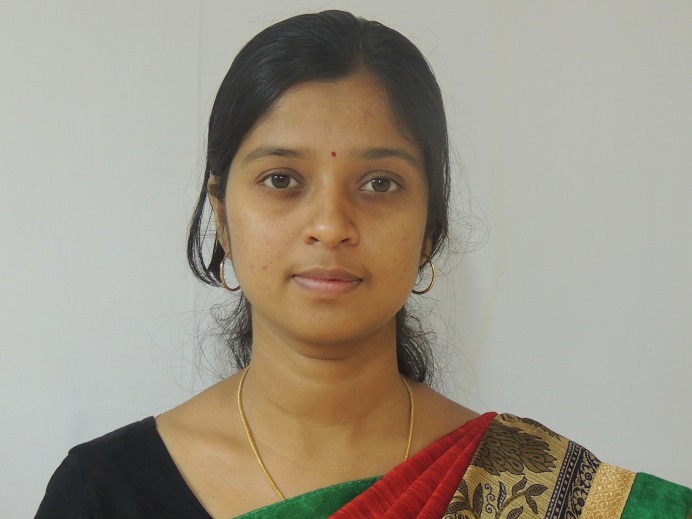 | | |
| --- | --- |
| Name | Ms. N. Sundari |
| Designation | Assistant Professor |
| Areas of Interest | Chemical Reaction Engineering Thermodynamics |
| Room No. | 6103 |
| Intercom No. | 551 |
| Mobile | |
| Email Id (Official) | nsundari@svce.ac.in |
| Email Id (Personal) | |
Qualification
Tech– Chemical Engineering – (2010-12)
A.C.Tech campus, Anna University, Chennai
Tech –Chemical Engineering (2006-10)
             St. Joseph's College of Engineering,Chennai.
Academic Experience
Working as Assistant Professor in Department of Chemical Engineering,
Sri Venkateswara College of Engineering,Sriperumbudur from Feb 2016
Worked as Assistant Professor in Department of Chemical Engineering,
Sathyabama University, Chennai from July 2012 – Jan 2016
Courses Handled
Heat Transfer, Mass Transfer I
Material Science and Technology
Chemical Engineering Thermodynamics I
Chemical Reaction Engineering I
Principles of Chemical Engineering
Total Quality Management
Food Technology
Fertilizer Technology
Chemical Reaction Engineering Laboratory
Heat Transfer Laboratory
Process Equipment Design I
Process Equipment Design II
Mechanical Operations Laboratory
Research & Consultancy
Research Publications
Sundari (2015). "Extraction and optimization of Mucuna Pruriens for dyeing of leather." Polish Journal of Chemical Technology, Vol.17, No.2, pp.57-63.
N.Sundari (2015). "Extrication of Pectin from waste peels: A Review."Research Journal of Pharmaceutical, Biological and Chemical Sciences, Vol. 6, No.2, pp.1842-1848.
Sundari, T.Radhika, V.Saranya, C.Jayakumar and N.Nagendra Gandhi (2012). "Quantitative analysis of Salbutamol bulk sample using Nicotinamide hydrotrope." International Journal of Pharmacy and Pharmaceutical Science Research, Vol. 2,No.1, pp.16-19
Conference / Workshop / FDP
Workshops Attended
Attended an  AICTE Sponsored short term course on "Instrumental Methods of Analysis" held at SVCE from 04th to 9th November 2019.
Attended an One day National Conference on "Technological Innovation on Clean Energy Generation and Environmental Remediation" held at SVCE on 04th October 2019.
Participated in one day National Workshop on "Writing Scientific Research Paper" organised by Department of Chemical Engineering, SSN college of Engineering Chennai on 27th November 2015.
Presented a Paper on Solubility enhancement of Drug using Hydrotropic and Nano precipitation Technique in National Conference on Recent Trends in "Chemical, Energy & Environmental Engineering(CEEE) " organised by Department of Chemical Engineering, SSN College of Engineering, Chennai on 28th February 2012
Participated in Seven days FDTP on Chemical Process Plant Safety June 20th -27th 2016.
Participated in AICTE sponsored Two Weeks Faculty Development Program (FDP) on "Stem Cell Characterization and Advances in its Research and Applications", from 27th November – 8th December, 2017
NPTEL Courses
Research Writing
Waste to Energy Conversion
Additional Responsibilities
Kinetics and Process Control – Module Member.
Faculty Advisor III Year-B2
Mass Transfer Lab In-charge
Main IQAC Coordinator
Asst. ISO Coordinator
Asst NBA / NAAC/ AU Affiliation
Main NIRF & AISHE; AICTE Dept. Coordinator,