Profile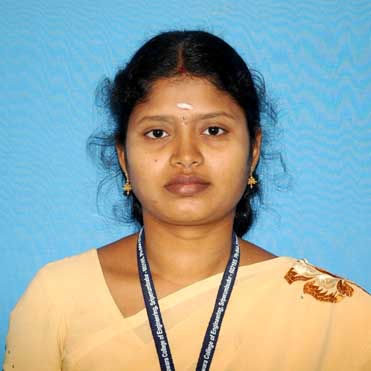 | | |
| --- | --- |
| Name | Rajeswari Ramaraj |
| Designation | Assistant Professor |
| Areas of Interest | Digital Signal Processing Control Systems VLSI Design Wireless Communication |
| Room No. | 14-213 |
| Intercom No. | 27152000 ext:227 |
| Mobile | |
| Email Id (Official) | rrajeswari@svce.ac.in |
| Email Id (Personal) | ikriyaraji@gmail.com |
Qualification
M.E (Applied Electronics),College of Engineering,Anna University,Chennai.
B.E (Electronics & Communication Engineering,Periyar Maniammai College of Technology for Women,Tanjore.
Academic Experience
Working as an Assistant Professor in Sri Venkateswara College of Engineering from August 2012 to till date.
Worked as Lecturer in SACS MAVMM Engineering College,Madurai from June 2009 to October 2009.
Worked as Lecturer in PRIST University,Tanjore from June 2008 to April 2009.
Courses Handled
Digital Signal Processing
Electronic Devices
Analog VLSI Design
Control Systems
Advanced Microprocessor & Microcontroller
Communication Engineering
Research & Consultancy
Attended ACCTT'2012 in K.L.N. College of Engineering,Madurai on 03/04/2012 & 04/04/12.
Conference / Workshop / FDP
FDP organised:
Organised 2 days National workshop on Applications of signal & Image processing at SVCE on 11 &12 Dec 2013.
Workshops attended:
RF Design and Measurement techniques at SVCE on 4 & 5 April 2014.
Workshop on Advancement of Image processing at CEG,Anna university on 24.01.14 &25.01.14
One day workshop on Microelectromechanical systems at CEG on10/01/2013
FDP on latest trends in EDA for Communication,Electronics and VLSI technology at SVCE on13.02.2013
FDP on tools for optical and microwave communication at SVCE on26/09/2013 to 28/09/2013
NPTEL workshop at SVCE on 28 Aug 2013
Faculty Empowerment program at SVCE on 23 & 24 Dec 2013.
Additional Responsibilities
University Examination Coordinator (Practical's UG & PG) -2 ,
Attendance Coordinator-Overall