Profile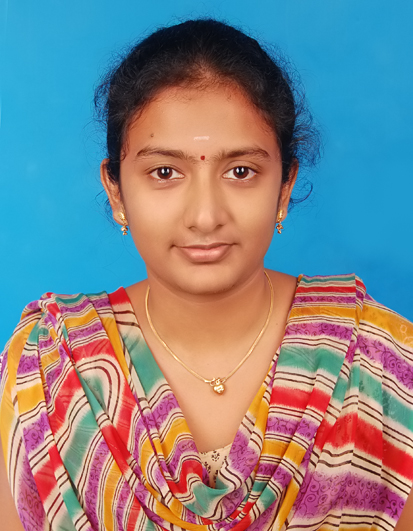 | | |
| --- | --- |
| Name | Ms. G. Thayanidhi |
| Designation | Assistant Professor |
| Areas of Interest | Petroleum and Petrochemicals |
| Room No. | 6103 |
| Intercom No. | 551 |
| Mobile | |
| Email Id (Official) | thayanidhi@svce.ac.in |
| Email Id (Personal) | |
Qualification
M.Tech – Chemical Engineering (June 2015)
B.Tech – Petrochemical Technology (May 2013)
Academic Experience
Assistant Professor, Erode Sengunthar Engineering College (2015-2016)
Assistant Professor, Sri Venkateswara College of Engineering (July 2016 ? Till date)
Courses Handled
B.Tech Courses:
Chemical Engineering Thermodynamics II
Chemical Process Calculations
Chemical Process Industries I
Food Technology
Environmental Science and Engineering
Chemical Reaction Engineering I
Chemical Process Industries II
Chemical Process Plant Safety
Laboratory Courses:
Mechanical Operations Laboratory
Process Equipment Design II
M.Tech Courses:
Advanced Transport Phenomena
Research & Consultancy
International Journals:
National Journal: G.Thayanidhi, R.Palani, N.Meyyappan, R.Parthiban. Carbon dioxide capture by adsorption using sulfur doped carbon material Environmental Science an Indian journal, Vol.12 (2), 2015, pp:65-69
National / International Conferences:
Presented a paper on Synthesis of sulfur doped carbon material and a study on effect of activation time on it in an International Conference on Technology Development in Agriculture, Energy and Environmental Engineering for Green World at Vivekanandha College of Engineering, Namakkal, 2014
Presented a paper titled A comparative study on the solubility enhancement pattern of o & p cresol through green solvents in International Conference on Modern, Intelligent and Green Manufacturing jointly organized by Erode Sengunthar Engineering College and Asia Pacific University of Technology and Innovation, Malaysia, 2016.
Presented a paper titled A Comparative Study on Thermal Degradation of Processed and Unprocessed Solanum Tuberosum in third national conference Emerging Trends in Science and Technology in Dr.M.G.R Educational and Research Institute, Chennai on April 2019.
Conference / Workshop / FDP
Workshop
National level Seminar on Technological Advancements in Fuel Cell Research, 9-10 September 2016, Department of Chemical Engineering & IIChE-SVCE student chapter.
National level Seminar on Software Packages for Dynamic Modeling and Distributed Control System on 16th and 17th March, 2018.
Webinar:
Participated in a webinar on Fluid Catalytic Cracker – PMS on June 2020.
NPTEL Courses:
Laws of Thermodynamics
Mechanical Operations
Technical English for Engineers
Waste to Energy Conversion
E learning Program by Tata Steel:
Advaced Microsoft Excel
Primary Steel Making
Additional Responsibilities
Unit Operations- Module Member
Faculty Advisor I Year
TT Main Coordinator
Fee Dues CH Support
Dept. Minutes recorder