Profile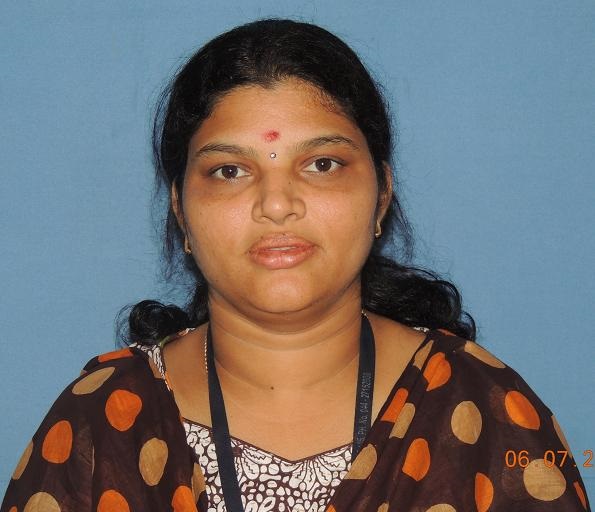 | | |
| --- | --- |
| Name | Kalavathi .S, M.E. |
| Designation | Assistant Professor |
| Areas of Interest | DATA MINING, DATA STRUCTURES & ALGORITHMS, NETWORKING |
| Room No. | IT 11-104 |
| Intercom No. | EXTN: 360 |
| Mobile | |
| Email Id (Official) | kalavathi@svce.ac.in |
| Email Id (Personal) | sknew1011@gmail.com |
Qualification
B.E(CSE) – Madras University(2004).

M.E(CSE)-Sri Venkateswara College of Engineering, Anna University(2011).
Academic Experience
Lecturer -Aug 2005 to May 2010 (SVCE)

Assistant Professor – June 2010 to till date (SVCE)
Courses Handled
COURSES HANDLING
IT18403-Operating System Concepts
IT18412-Operating System Concepts Lab
THEORY
IT16502-Web Programming
IT6604-Automata and Compiler Design
WEB PROGRAMMING
COMPILER DESIGN
DESIGN AND ANALYSIS OF ALGORITHMS
DATA WAREHOUSING AND MINING
COMPUTER NETWORKS
ADVANCED SYSTEM SOFTWARE
JAVA PROGRAMMING
PROGRAMMING AND DATA STRUCTURES
WEB TECHNOLOGY
LABORATORY
IT16511-Web Programming Lab
IT6612-Automata and Compiler Lab
INTERNET PROGRAMMING LAB
Programming Data Structures I LAB
Research & Consultancy
TECHNICAL TALK DELIVERED
Handled a Session for "FDP on Train the Trainers for programming Skills" held during 11/11/2019 to 14/11/2019 at SVCE
Conference / Workshop / FDP
NATIONAL CONFERENCE
S.Kalavathi,Dr.R.Ramachandran,"A heuristic tree based interference aware multicast algorithm for multichannel wireless mesh networks"- GKM college of engineering. Selected as the best paper in the conference.
WORKSHOPS ATTENDED
Five Day STTP on CS8493-Operating systems at MIT during 3/12/2019 and 7/12/2019
National workshop on Internet of Things and NoSQL at SVCE on 30/08/2019
One day workshop "Developing RYU SDN  Applications" at SVCE on 2/9/2018
Two Days Workshop on BlockChaining and IoT at SVCE during 15/10/2018 and 16/10/2018
AICTE Sponsored National Seminar On Deep Learning for Big Data Analytics at SVCE 9/11/2017 and 10/11/2017
One day Hands-on Workshop entitled "Setting up a Private Cloud using Open    Nebula" at SVCE on 22/08/2017
National workshop on grid computing on 24th and 25th January 2006 organised by Dept. of CSE and ISTE Chapter, SVCE
Training Programme on Instructional design and delivery – 4th to 6th Jan 2007, SVCE
Macintosh Products Workshop, Period: 26-Sep-2008, Venue: CS Department, organised by Department of Computer Science and Engineering and Datalogics India PVT Ltd
A practical approach to algorithms by MCA dept, SVCE (Jan 28-29 2009)
FDP on Open Source Software 8th September 2010 organised by Department of CSE, SVCE and CTS Chennai
One day workshop on NS2- Easwari Engineering College -8th Dec 2010
One day workshop on Java/J2ee technologies- 28 Dec 2010
Workshop on Emerging Technologies in Telecommunication, Dept of ECE, SVC, 6-8,Jan 2011
National Wokshop on Research methodology NWR 2011, organised by ISTE-SVCE chapter, SVCE,30 March 2011
Faculty Development Training Programme on Artificial Intelligence organised Dept of CSE, SVCE , sponsored by Center for faculty development, Anna University, 14 -21 November 2011.
CDAC workshop on cloud computing, organsised by SVCE ACM student chapter,Department of Computer Science & Engineering, 7-8 March 2012
National Workshop on "Support Vector Machines : Foundations, Research Direction & Tools" – NWSVM 12,15 Dec 2012
Workshop on Linux system Administration on 18th and 19th Dec 2013 at Dept. of CSE SVCE
Workshop on Industry Oriented APP Development at SVCE during 19 feb 2016 to 20 feb 2016.
7 days FDP on Web Programming during 12 jun 2016 to 19 jun 2016 at SVCE.
Additional Responsibilities
CURRENT RESPONSIBILITIES

Chairperson for IV year
Time Table coordinator
PREVIOUS RESPONSIBILITIES
Staff Development Incharge
UG Project Coordinator
Web Coordinator
NETWORK LAB INCHARGE
Special Class Incharge
ISO Coordinator
TAU Coordinator
Professional Objective Incharge
Alumni Incharge
Department Co Curricular Incharge
CAT coordinator
University Practical Exam Co-ordinator
UG Project Coordinator
Faculty Advisor for batch(2009-2013) CSE – B Section Roll No : 18-37