Profile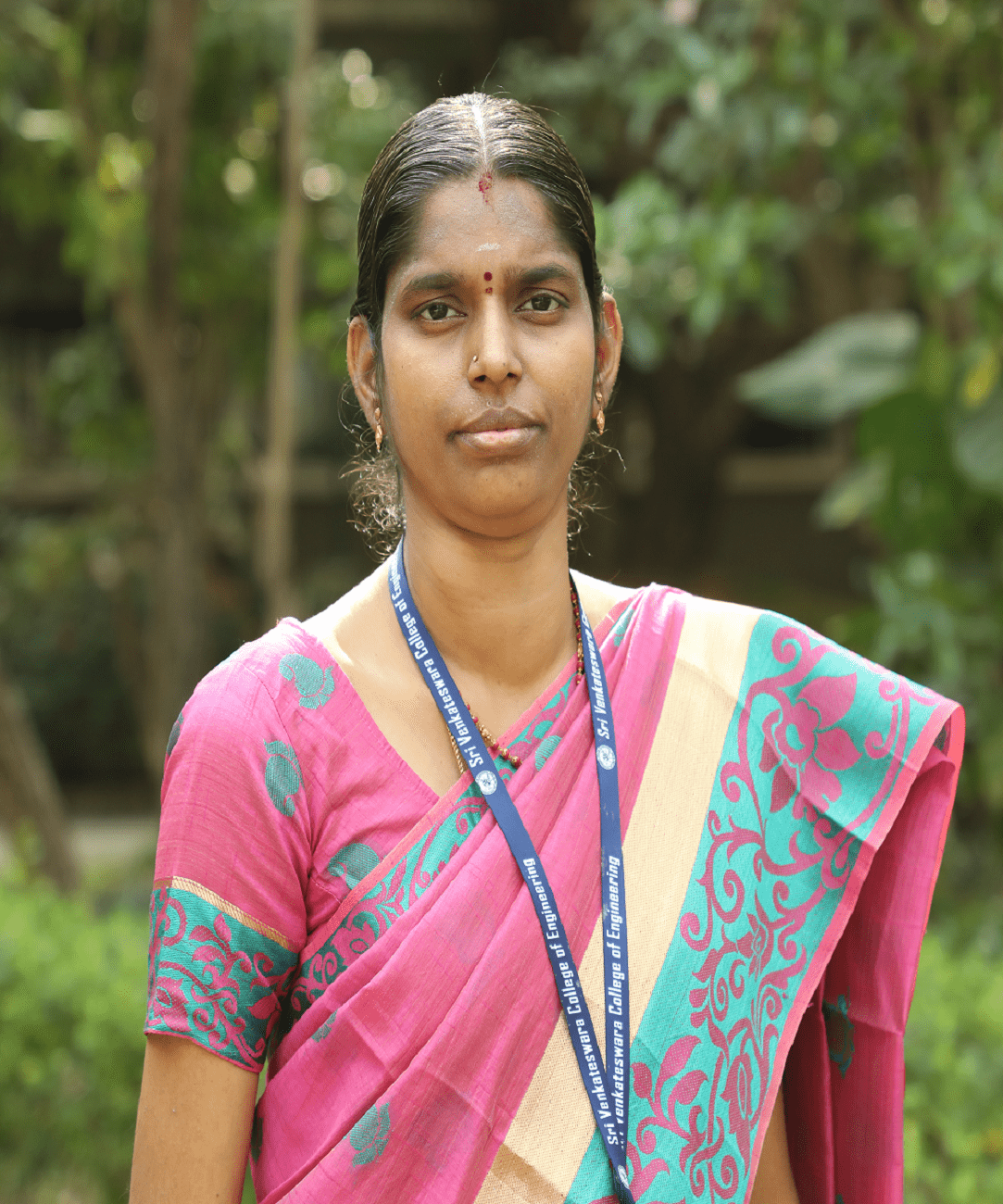 | | |
| --- | --- |
| Name | Ms.R.Gayathri |
| Designation | Assistant Professor |
| Areas of Interest | Machine Learning,Data Analytics |
| Room No. | |
| Intercom No. | 314 |
| Mobile | 9894802344 |
| Email Id (Official) | gayathri@svce.ac.in |
| Email Id (Personal) | gayathri2.r@gmail.com |
Qualification
Ph.D.,(Pursuing at Anna University, Chennai)
M.E. – Multimedia Technology,College of Engineering,Anna University 2008-2010.
M.B.A.- Alagappa University, 2006-2008.
B.E. – Computer Science & Engineering, University of Madras 2000-2004.
Academic Experience
Worked as Lecturer in Computer Science & Engineering Department, from July 2005 to June 2010.
Working as Assistant Professor in Computer Science & Engineering Department, SVCE from July 2010 to till date.
Courses Handled
COURSES CURRENTLY HANDLING
CS16603 Artificial Intelligence (III CS A& B)
CS16612 Artificial Intelligence Lab (III CS B)
COURSES HANDLED
Theory (UG):
Grid and cloud computing Theory
Computer organization & Architecture
Operating Systems
DBMS
Data Mining & Warehousing
Theory of Computation
Computer Networks
Internet Programming
Principles of Management
Software Quality Management
Computer Programming
Software Project Management
Artificial Intelligence
Theory (PG):
Managing Big Data
Advanced Databases
Advanced Operating Systems
Database Technology
Lab (UG):
Grid and cloud computing Lab
Operating Systems Lab
DBMS lab
Network Lab
System Software Lab
Internet Programming Lab
Software Systems Development Lab
Computer Practice I Lab
Computer Practice II Lab
System Software Lab
Computer Graphics Lab
Lab (PG):
Advanced Databases Labs
Research & Consultancy
INTERNATIONAL JOURNAL:

1. Hemalatha B, Gayathri R.: Efficient Load Balancing for Multimedia Transmission International Journal of Engineering and Techniques,V4-I2,2018.
National Conference

1. D.Mahalakshmi, Gayathri R.: presented a paper "A Hybrid Approach for Data Classification" in National Conference on Advanced Computing Technologies(NCACT2014).

PROJECT FUND:

Received research fund of Rs.9000 for the PG project guided in 2017.
PROJECTS MENTORED:

Mentored project for Innovates Student's Research Day SVCE in 2017,2018 & 2019.
Conference / Workshop / FDP
WORKSHOPS ATTENDED
National Workshop on Grid Computing (NWGC 2006) at CS department, SVCE from 24th to 26th January 2006.
National Workshop on Middleware Technologies at MCA in association with ISTE, SVCE chapter, from 24th & 25th January 2008.
ISTE sponsored National workshop on Network Simulator tool – NS2 at Easwari Engineering college, 8 Dec 2010.
Faculty Development Training Program on Theory of Computation on 7-13, June 2010
National Workshop on Data Mining: A Research perspective, SVCE, 24-25 March 2011.
National workshop on Research methodology NWRM 2011, organized by ISTE-SVCE Chapter, SVCE on 30 March 2011.
FDP on Data Warehousing and Data Mining on 26th July 2013 organized by Cognizant, Chennai.
National Workshop on Semantic Web Mining on 25th October 2013 at VIT Chennai.
Workshop on Large Scale Machine Learning organized in association with Ericsson Research on November 13th & 14th 2013 at CS department SVCE.
FDP on Mobile Application Development on 8th & 9th January 2016 at CS department SVCE.
Two days workshop on Implementation of cloudsim and Hadoop on 5th & 6th February 2016.
FDP on Effective Programming Skills on 28th May 2016 organized by Cognizant, Chennai.
Two days workshop on Big Data Analytics by RCC,CEG,Anna University during 22nd & 23rd April 2017.
FDTP on Data Analytics by IT,Training & Placement Cell & Infosys SVCE during June 1st & 2nd 2017.
One Day Hands-on Workshop on Online Web Hosting and Development at CS department, SVCE on 10th October 2017.
One day workshop on Developing RYU SDN Applications at CS department, SVCE on 09/02/2018.
One day workshop on Essentials of Applied Machine Learning at CS department, SVCE on 27/03/2018.
Two Days workshop on Python Programming at CS department, SVCE on 11/10/2018 & 12/10/2018.
One Day Hands-on Workshop on Building Web Application using .Net Framework at CS department, SVCE on 15th October 2018.
Two days workshop on Block chaining and IOT on 15th & 16th October 2018.
One week short term training programme on Transition from machine learning -> Deep learning "Text, Image and Speech processing"(MLDLTISP'18) on November 12th to 17th at CS department, SVCE.
National workshop titled "Internet of Things/No SQL Databases" on 30thAugust, 2019.
Six Days Faculty Development Program (FDP) on "Machine Learning & Cyber Security" from 9th December 2019 to 14th December 2019.
LECTURES DELIVERED
Delivered a lecture in the topic "Database Programming Using Python" at Five Days Value Added Course in Python Programming during December 4th – 8th, 2018 at IT Dept., SVCE.
Delivered a Talk in 2-days Hands-on Workshop on "Multitudinal Databases" held from 16/10/2019 t& 17/10/2019.
Additional Responsibilities
CURRENT RESPONSIBILITIES
Department ISO Coordinator.
Department IQAC In charge.
TAU In charge for III year CSE.
Faculty Advisor III year CS 'B1′(57-86)
PREVIOUS RESPONSIBILITIES
Department Conservative Committee member
Department Co Curricular In charge
Department Extra Curricular In charge
Department Meeting In charge
Department Scholarship In-charge
Department Student Extra & Co-curricular Activities In-charge
Department CAT coordinator
Department University Practical Exam Co-coordinator
Department Web Coordinator
Department Intranet Coordinator.
Faculty Advisor M.E. CSE (2011-2013)