Profile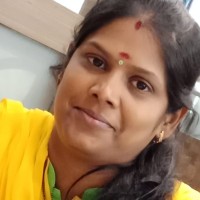 | | |
| --- | --- |
| Name | Ms. Padmavathy.T |
| Designation | Assistant Professor |
| Areas of Interest | Data Structures,Algorithms,OOPS,Programming languages |
| Room No. | 5010 |
| Intercom No. | 301 |
| Mobile | |
| Email Id (Official) | tpadma@svce.ac.in |
| Email Id (Personal) | padmavathy.thiruppathiraj@gmail.com |
Qualification
B.E.-COMPUTER SCIENCE AND ENGINEERING-2003-MADURAI KAMARAJ UNIVERSITY
M.E.-COMPUTER AND COMMUNICATION ENGINEERING-2013-ANNA UNIVERSITY,CHENNAI
PURSUING Ph.D. IN ANNA UNIVERSITY
Academic Experience
Sri Venkateswara College of Engineering , Assistant professor, June.2010 -Till date
Sri Venkateswara College of Engineering , Lecturer May.2007 – May.2010
Jyothi Engineering College , Assistant professor , Sep.2006 – Jan.2007
Sri Devi Womens' Engineering College , Assistant professor , Jan.2006- Sep.2006.
R.V.S College of Engineering and technology, Lecturer , Feb.2004 – Feb.2005.
Courses Handled
COURSES HANDLED
Data Structures
Object Oriented Programming
Design and Analysis of Algorithms
System Software
Principles Of Compiler Design
Data Structures
Programming in C
OOPS
Algorithms
Computer Organization
Computer Graphics
Software Engineering
Data Structures Lab
OOPS Lab
Algorithms Lab
Software Development Lab
Visual Programming Lab
Internet Programming Lab
Middleware Lab
Operating system Lab
Data Structures Lab
COURSES HANDLING
Operating Systems
Operating Systems Lab
Research & Consultancy
Papers Published
Ms. Brammi J, Ms. Dhivya R , T.Padmavathy , Dr.R.Anitha , presented a paper entitled "HCI Based Input Device for Differently Abled", in the 3rd International Conference on Emerging Trends in Computing and Expert Technology held at Panimalar Engineering College on 7th March 2020, and received the BEST PAPER AWARD. The presented paper will be published in Advances in Parallel Computing – Springer [Scopus Indexed].
T. Padmavathy and R. Anitha, " Categorization of Virtual Machine in Cloud SDN Environment using ELM – A Discriminative Classifier", International Conference on Information and Communication Technology for Competitive Strategies (ICTCS – 2019), 13-14 Dec 2019, Bhupal Nobles' University, Udaipur
 T.Padmavathy, G.Sumathi, K.Srinivasan, "Reputation Based Efficient Isolation of Wormhole Nodes", in International Journal of Computer Applications(0975 – 8887), Volume 70 – No.7, May 2013.
 T.Padmavathy, G.Sumathi, "Efficient Identification and Isolation of Wormhole Nodes – A Trust Based Enhancement to WARP" in Compusoft, An International Journal of Advanced Computer Technology(2320 – 0790),May 2013
Patent Filed
 A patent is published under IPR, India Titled: Search and Place Filter(SPF) – A probabilistic Data Structure for Virtualization Environment. Filed on 11.10.2018
Conference / Workshop / FDP
2019-2020
Completed 8-week course on Software Defined Networking during March 2020 conducted by Coursera.
Completed an online course titled "Getting started with AI using IBM Watson" conducted by IBM through Coursera during November 2019.
Completed an online course titled," Introduction to Genomic technologies" conducted by John Hopkins University through Courseera during November 2019.
Attended 6 days FDP on "Machine Learning and Cyber Security" at SVCE from 09/12/2019 to 14/12/2019.
Attended National workshop on "Internet of Things/No SQL Databases" organized by the Department of Computer Science and Engineering, SVCE on August 30, 2019.
2018-2019
STTP on Cloud Orchestration using SDN and OpenStack(COSOS 2018) from 24/09/2018 to 28/09/2018 at SRM University,Kattankulathur.
One Week STTP on "Transition from Machine Learning -> Deep Learning : Text, Image and Speech Processing"(MLDLTISP'18) from 12/11/2018 to 17/11/2018 at SVCE.
Two Days workshop on PYTHON Programming from 11/10/2018 12/10/2018,SVCE.
2017-2018
One-Week Short Term Course on Introduction to Algorithm from 07/11/2017 to 11/11/2017 at NIT,Trichy.
ISTE sponsored workshop on Google App Engine on 28/07/2017 at SVCE. One Day Hands-On Workshop on "Setting a Private Cloud using Open Nebula" on 22/08/2017.
One Day Workshop on "Developing RYU SDN Applications" on 09/02/2018, SVCE.
2016-2017
Attended National Workshop on Data Analysis and Business Intelligence, SVCE from 05/12/2016 to 09/12/2016.
Participated in FDP "Digitilization and its impact" at CTS MEPZ, Chennai
FDTP on Data Analytics at SVCE from 05/06/2017 to 07/06/2017
National Seminar on Fuzzy Set and its Applications in Science and Engineering on 14/02/2017 at SVCE
Attended Special talk on Data Science on 13/06/2017,SVCE
Previous
Two day workshop on A practical Approach to Algorithms, SVCE, 28-29 Jan 2009
Object Oriented Analysis & Design using UML with essential of Rational Software Architect, SVCE with IBM,20-23 Apr 09
Cloud Computing, SVCE [CTS],30-Jun-09
XML & Web services, SVCE[IBM],10- 11-Aug 09
Workshop on PYTHON for scientific computing, CSE/SVCE with FOSSEE Group, III Bombay, 22-23 Apr 2010
Workshop on Large Scale Machine Learning organized in association with Ericsson Research and Dept. of CSE,SVCE. On 13th &14th November 2013.
Additional Responsibilities
CURRENT RESPONSIBILITIES
Faculty Advisor (IV Year / A2 ) Batch
Professional Objective In charge
Governing Council Report In charge
Sub-Editor Department News Letter
PREVIOUS RESPONSIBILITIES
CAT coordinator
Result Analysis Coordinator
Work load and Time Table coordinator
Department Library Incharge
Placement Training Activities