Profile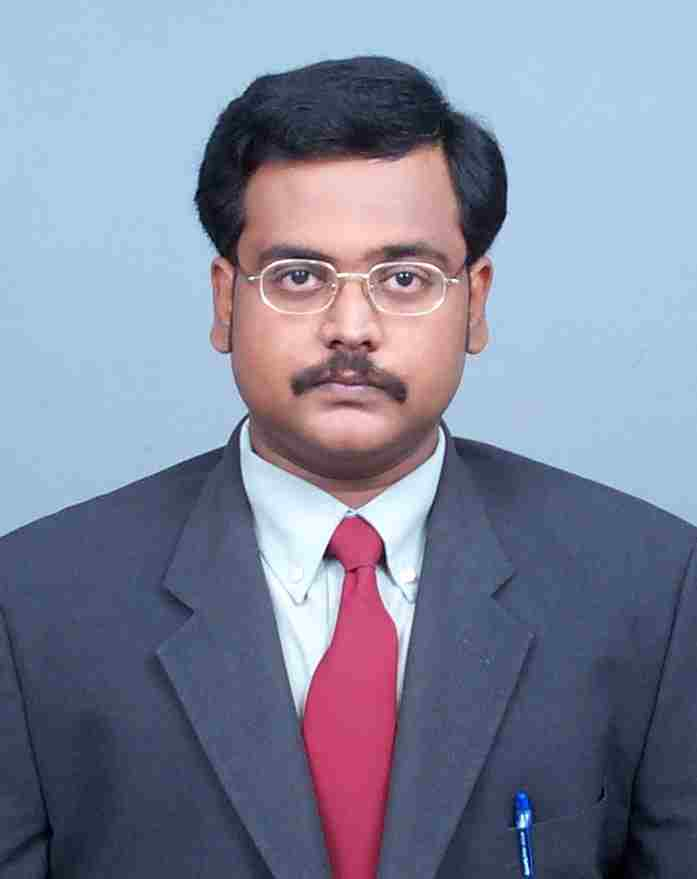 | | |
| --- | --- |
| Name | S Senthil Rajan |
| Designation | Assistant Professor |
| Areas of Interest | RF & Microwave Antenna & Wave Propagation Wireless Communication Genetic Algorithm Marketing Research Management Science Quality Management |
| Room No. | 14-310 |
| Intercom No. | 227 |
| Mobile | 9444447806 |
| Email Id (Official) | senthilrajan@svce.ac.in |
| Email Id (Personal) | ssenthilrajan@gmail.com |
Qualification
Ph.D-Pursuing in Anna University, Chennai
M.E in Communication Systems
Studied in Sri Venkateswara College of Engineering, Sriperumbudur.
Division obtained: First Class
M.Phil in Management (Pre doctoral program in Management)
Studied in Madurai Kamaraj University, Madurai
Division obtained: First Class
M.B.A in Marketing (Master of Business Administration)
Studied in Vellammal College of Management & Computer Studies, Chennai.
Division obtained: First Class
BE in Electronics & Communication Engineering (Bachelor of Engineering)
Studied in Vellammal Engineering College, Chennai.
Division obtained: First Class
Academic Experience
Academic Experience:
From 1st June 2010 Onwards (Working as Assistant Professor in Electronics and Communication Engineering Department, Sri Venkateswara College of Engineering, Sriperumbudur)
From 1st June 2009 to 31st May 2010 (Worked as Senior Lecturer in Electronics & Communication Engineering Department, Sri Venkateswara College of Engineering, Sriperumbudur)
From 9th June-2004 to 31st May 2009 (Worked as Lecturer in Electronics & Communication Engineering Department, Sri Venkateswara College of Engineering, Sriperumbudur)
Industrial Experience:
From 21st June 2001 to 7th June 2004-(Worked as Business Development Executive, Esquire Engineers & Consultants Limited, Chennai)
From 1st December 2000 to 31st March 2001 (Worked as Research Coordinator while doing MBA Final Year Project at ACNielsen, Chennai)
Courses Handled
CU7103-Optical Networks
EC2401-Wireless Communication
CU9221-Wireless Mobile Communication
CU9213-Optical Communication Networks
EC1451-Mobile communication
EC1402-Optical communication
EC2304-Microprocessor and Microcontrollers
GE2022/MG1401/GE406-Total Quality Management
MG2351/MG1351/MG331-Principles of Management
GE1301-Professional Ethics and Human Values
PR431-Management Sciences
MG325-Engineering Economics and Financial Accounting
EC2404-Electronics System Design Lab
CU9216-Communication System Lab-I
EC2308-Microprocessor and Microcontrollers lab
CU9228-Communication System Lab-II
AT2307-Automotive Electrical & Electronics Lab
GE1351-Communication Skills Laboratory
EC1265-Electronics and Microprocessor Lab
Research & Consultancy
International Journal
Gayathri.R and Senthil Rajan.S, "Analysis of Adaptive Modulation for MIMO OFDM System Over Rayleigh Fading Channel", in International Journal of Engineering Sciences & Research Technology, ISSN: 2277-9655, P.No. 3066-3072, April 2014
Santhalakshmi.T and Senthil Rajan.S, "An Effective Method of Decoding Layered Signal in OFDM Using Particle Filter", in International Journal of Engineering Sciences & Research Technology, ISSN: 2277-9655, P.No. 881-885, June 2014
International Conference
Sandhya.R, Dr.Umma Habiba.H and Senthil Rajan.S, "Novel Compact Economic SIW Bandpass Filter Topologies for UWB Application" in the International Conference on Computing, Communication and Electrical Technologies, ICCCET-2015 held on 4th & 5th March 2015 at Vivekanandha Institute of Engineering and Technology for Women, Tiruchengode Taluk.
Arulraja.R and Senthil Rajan.S, "OFDM Modulation for Next Generation Communication", in International Conference on Electrical Engineering and Computer Science, Pages 149-153, on 16th June 2013, at Interscience Research Network, Chennai, ISBN: 978-93-82208-96-9
Karthikayini.K and Senthil Rajan.S, "Fuzzy Based Resource Allocation Scheme for LTE-A Downlink Systems", in International Conference on Electrical Engineering and Computer Science, Pages 101-105, 17th March 2013, at Interscience Research Network, Coimbatore ISBN: 978-93-83060-02-3
National Conference
Santhalakshmi.T and Senthil Rajan.S, "Particle Filtering Based LDPC Decoding for Hierarchical Modulation Scheme", in National Conference on Recent Trends in Information and Communication Engineering, (RTICE�14) held on 21st March 2014, at P.T.LEE Chengalvaraya Naicker College of Engineering and Technology, Kancheepuram
Santhalakshmi.T and Senthil Rajan.S, "A Decoding Algorithm for Hierarchical Modulation Using Structure Based LDPC", in National Conference on Advanced Communication and Signal Processing (NCACSP�13), Paper Id ME/53, on 18th October 2013, at Arulmigu Meenakshmi Amman College of Engineering, Vadamavandal
Gayathri.R and Senthil Rajan.S, "Adaptive Modulation for MIMO Systems Over Rayleigh Fading Channel", in National Conference on Advanced Communication and Signal Processing (NCACSP�13), Paper Id ME/52, on 18th October 2013, at Arulmigu Meenakshmi Amman College of Engineering, Vadamavandal
Senthil Rajan.S and Venkateswaran.N, "An Effective GA Based Model for Resource Allocation Problem in Wireless Communication" in Second National Conference on Signal Processing Communications and VLSI Design (NCSCV '10) held during 7th & 8th May 2010 at Anna University, Coimbatore
Senthil Rajan.S and Venkateswaran.N, "Genetic Algorithm Based Channel Allocation Scheme for Mobile Communication" in Second National Conference on Signal Processing, Communications and Networking (NCSCN-2010) held at SVCE during March 30-31, 2010
Conference / Workshop / FDP
Workshops Attended:
Participated in One Day Workshop on Research Methodology held on 15th December 2014 at Anna University, Chennai.
Attended a Distinguished Lecturer's Seminar at Indian Institute of Technology, Madras on Advanced Antenna Systems for Satellite Communication Payloads on 09 December 2014
Attended the Three Days National Level Workshop on Green Mobile Communication at Rajalakshmi Engineering College, Thandalam during 02nd June 2014 to 04th June 2014.
Attended the Two Days national workshop on research methodologies during 27th January 2012 to 28th January 2012 at RMD Engineering College, Kavaraipettai, Thiruvallur District.
Attended a One Day seminar program on Future Wireless Technologies-3G and beyond at Computer Society of India, Taramani, Chennai600 113 on February 6, 2010.
Attended AICTE sponsored Two days National Workshop on"Advanced Microprocessors and Microcontrollers for Embedded Applications" organized by the Department of Information Technology, Easwari Engineering College from 18/09/2009 to 19/09/2009.
Attended a Two Days Workshop on Building Entrepreneurial Competences at IIT Chennai during 9th March 2007 to 10th March 2007
Attended the Faculty Development Programme (FDP) on Total Quality Management (TQM) during 16/11/04 to 21/11/04 at Centre For Faculty Development (CFD), Anna University.
Participated in the panel discussion of an Industry-Institute Interaction session of the CII-TDB Technology Transfer Centres' Network (CII-TDB T NET) held at May 2002
Attended a one day Seminar organized by the Confederation of Indian Industry (CII), the theme of which was "India in the Era of Globalization" at Chennai on April 2002
Attended a one-day Conference on "Investment Climate in India-Impact on Competitiveness of Manufacturing Firms" Organized by Confederation of Indian Industry (CII), Chennai during March 2002
Attended a two-day International Conference on Micro & Green Power, Organized by Confederation of Indian Industry (CII), Chennai during February 2002
Workshops Organized:
Conducted the Three Week Entrepreneurship & Skill Development Programme on Desktop Computer Servicing from 20th November 2013 to 10th December 2013 for the benefit of unemployed rural youth. This programme was sponsored by All India Council for Technical Education, New Delhi & Indian Bank, Kancheepuram Zone.
Additional Responsibilities
Anna University, NAAC and NBA Activities Coordinator – 1,
IQAC Coordinator-1, ISTE Faculty Chapter.