Profile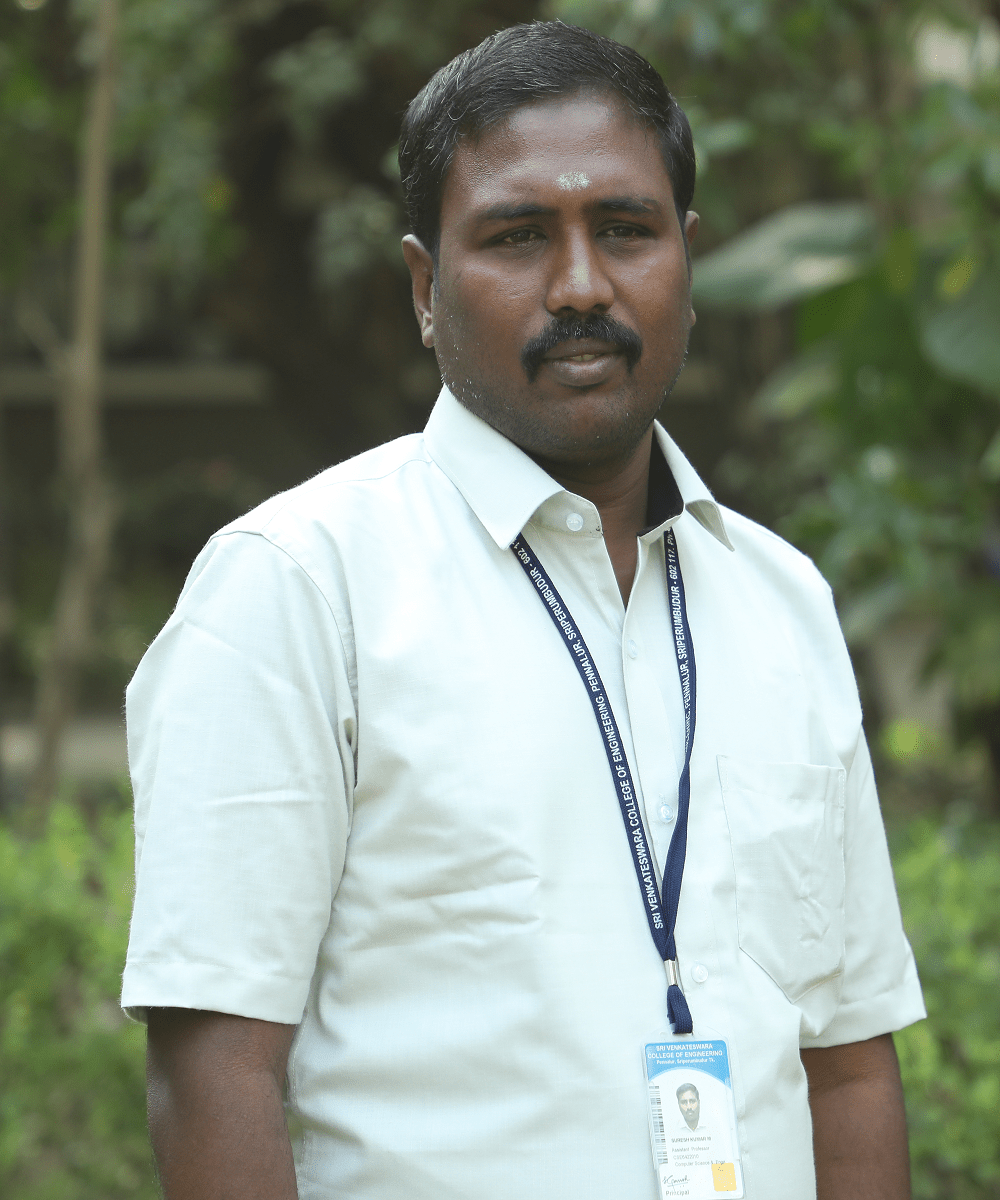 | | |
| --- | --- |
| Name | Mr. M. Suresh Kumar |
| Designation | Associate Professor |
| Areas of Interest | Wireless Networks |
| Room No. | |
| Intercom No. | 310 |
| Mobile | 9994526625 |
| Email Id (Official) | sureshm@svce.ac.in |
| Email Id (Personal) | babumrm@gmail.com |
Qualification
B.Tech IT(Information Technology) 2001-2005 passed out
M.E. SE&OR (Systems Engineering & Operations Research) 2007-2010
Ph.D(pursuing at Anna University)
Academic Experience
3yrs in Sri Muthukumaran Institute of Technology
1yr in Veltech
1yr in Sakthi Mariamman Engineering College
Assistant Prof. in SVCE from August 2010 till Date.
Courses Handled
Courses Handling
Mobile Computing
Mobile Application Development Lab
Theory Courses
Cryptography and Network Security
Web Technology
Fundamental of Computing
Computer networks
Operating Systems
Cryptography and Network Security
Software Engineering
Object Oriented Programming
Data warehousing and Data Mining
Software Testing
Network &Information Security
Laboratory Courses
Web Technology Lab
Computer Practice II Lab
OS Lab
Software Engineering Lab
Oops Lab
Software Component Lab
DBMS Lab
Data structures Lab
Network Lab
Digital Lab
Security Lab
Research & Consultancy
CONFERENCES
National Conference:
Title:Active queue management and Fairness allocation in Wireless Networks.
Name of the Conference: NCRAIT-09 Venue: PSN College of Engineering and Technology, Tirunelveli.
International Conference:
Title:Improving TCP Performance using Cross Layer in Wireless Networks.
Name of The conference: ICMCM2010
Venue: MACFAST College, Kerala.
Conference / Workshop / FDP
Workshops Attended
Attended 2 days workshop about DATABASE TECHNOLOGY, in SSN college of Engineering.
Attended 2 days workshop aboutSoftware Testing and Reliability, in SSN college of Engineering on Jul 31- Aug 1, 2009
One day workshop on JAVA / J2EE Technologies, SVCE, 28 Dec 2010
Attended 6 days Staff Development program Networking Programming and Management from 07.6.2010 to 12.06.2010.
Attended 1 day workshop on NETWORKING STANDARDS organized by IT,CSE and MCA at St Joseph's College of Engineering, Chennai-600119 on 28-Aug-2010
One day FDP on open source software on 8/9/10 at SVCE.
Two days FDP on open source lab on 27th -28th June 2013
Workshop on Linux Administration held on 18th and 18th December 2013 at Dept. of CSE,SVCE
Workshop on "Online Web Hosting and Development", Sri Venkateswara college of Engg., 10th October 2017.
Attended Workshop on Google App Engine at Department of Computer Science and Engineering, SVCE.
Two Days workshop on "Block Chaining and IOT" from 15/10/2018-16/10/2018.
National workshop on "Internet of Things and NoSQL Databases" held on 30/08/2019.
2 Days Workshop attended On "Deep Learning Simplified" in association with Hexaware Technologies Limited on March 11 & 12, 2020.
Workshops Organized
Organized a One Week STTP on "Transition from MachineLearning; Deep Learning : Text, Image and speech Processing" from 12/11/2018-18/11/18.
Oganized 6 days FDP on Machine Learning and Cyber Security held from 09/12/2019 to 14/12/2019, Dept. of CS, SVCE
Industry Training Attended
Attended Wipro Training from 08/05/2018 to 17/05/2018 in Wipro Bangalore.
Attended Infosys training from 23/06/2019 to 26/06/2019 in SKCET at Coimbatore.
Guest Lectures Organized
organized a Guest Lecture on "Career on Cyber Security" on 28-12-2018 in SVCE.
Organized a Guest Lecture on "Higher Education in Abroad" on 25-09-2018 in SVCE.
Additional Responsibilities
Current Responsibilities
Placement Co-ordinator
Faculty Advisor for CS 'A2' (22-44)(BATCH 2022-26)
Educational Objective In-charge
Previous Responsibilities
Faculty Advisor for CS 'A3' (22-44)(BATCH 2022-26)
Faculty Advisor for CS 'B2' (23-44)(BATCH 2010-14)
Employability Objective In-charge
Department PG Project Co-ordinator
Department Assistant ISO Co-ordinator
Practical Exam Coordinator
Web Coordinator
University Practical Exam Timetable Incharge
I Year TimeTable Incharge