Profile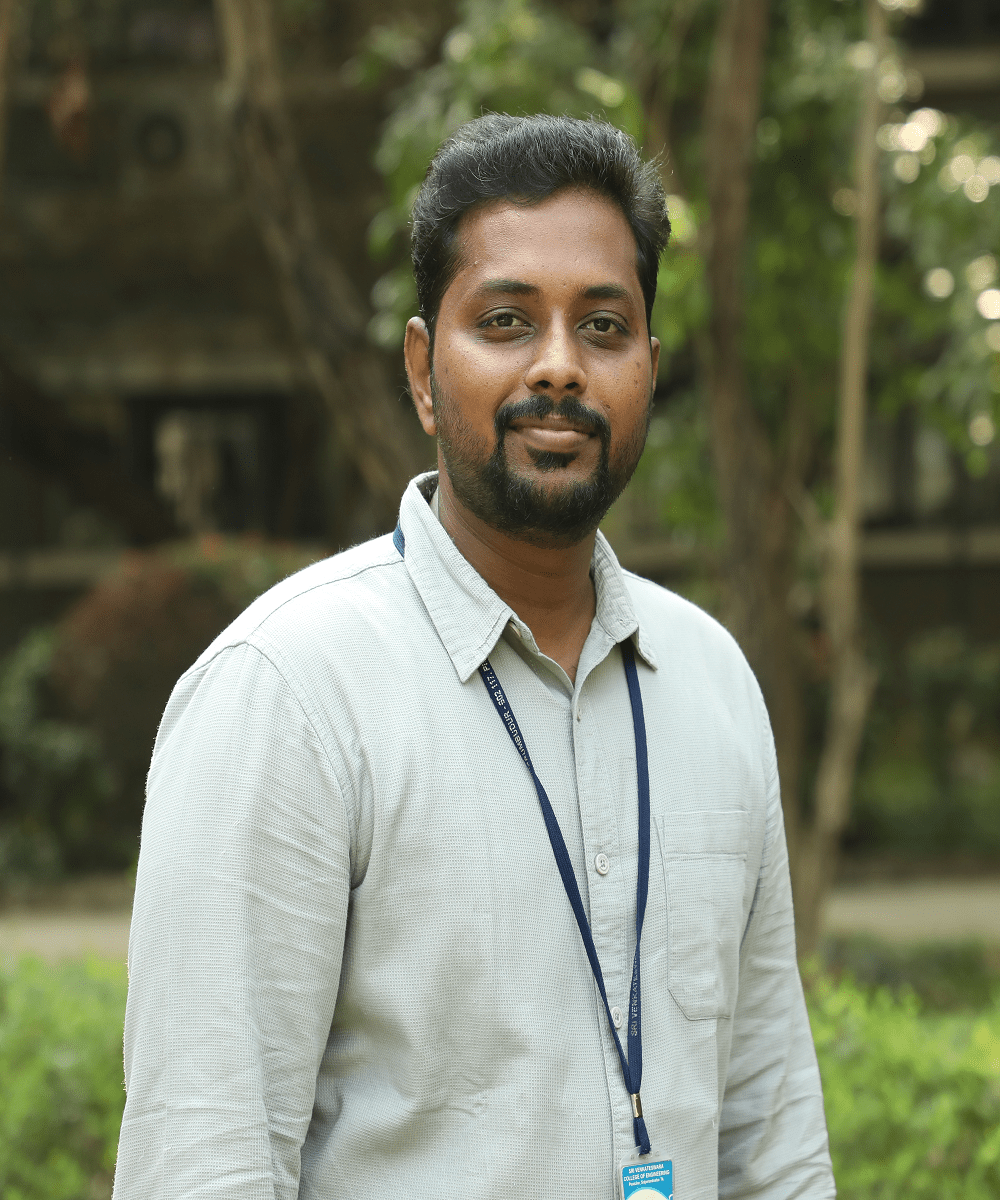 | | |
| --- | --- |
| Name | Mr. K. Kumanan |
| Designation | Assistant Professor |
| Areas of Interest | High Speed Networks, Natural Language Processing, Database Management Systems |
| Room No. | 5213 |
| Intercom No. | 310 |
| Mobile | |
| Email Id (Official) | kkumanan@svce.ac.in |
| Email Id (Personal) | |
Qualification
B.TECH (INFORMATION TECHNOLOGY), VELTECH ENGINEERING COLLEGE , 2010.
M.TECH (DISTRIBUTED COMPUTING SYSTEM), PONDICHERRY ENGINEERING COLLEGE, 2012.
Academic Experience
Experience: 7.7 years
Working as Assistant Professor in Department of CS, SVCE from August 2012 to till date
Courses Handled
Courses Currently Handling
Software Engineering
Software Engineering Lab
Theory Courses Handled
CS16701- Cryptography & Network Security
CS16405- Software Engineering
CS16401-Computer Networks
CP7019 – Managing Big Data
CP7029- Information storage management
Mobile and Pervasive Computing
Professional Ethics In Engineering
Distributed Systems
Database Management System
Computer Graphics
Fundamentals of Computing
Laboratory Courses Handled
CS16413- Software Engineering Lab
CS16711- Security Lab
Mobile Application Development Lab
Database Management System Lab
Computer Graphics Lab
Object oriented analysis and design lab
Networks Lab
Open source lab
Operating Systems lab
Fundamentals of Computing Lab
Research & Consultancy
Papers Published
Subbiah Swaminathan, K.Naresh, K.Kumanan, "An Enhanced Load Balancing in Cloud Environment Using Ant Colony Optimization (MLB-ACO) Algorithm",Journal of Green Engineering(Scopus indexed), Vol. 10, issue 6, Page No.2995–3005.
Sheik Ismail S,Sivasankar G,Srinath B, Kumanan K, " Distributed Honeypot using Blockchain" in International Research Journal of Modernization in Engineering Technology and Science , Volume:02/Issue:06/June-2020.
K.Kumanan, Hemashree S, Sangeetha C & Srilakshmi S Presented a paper titled "Sentimental Analysis on Amazon Reviews using Supervised Learning Models " in 8th International Conference on Contemporary Engineering and Technology 2020 organized by Science & Innovative Engineering and Technology (OSIET), Chennai.
S.V.Suriya prasad , K.Kumanan , "Homomorphic Encryption Using Enhanced BGV Encryption Scheme For Cloud Security ",International Journal Of Engineering And Computer Science ISSN:2319-7242, Volume 7 Issue 3 March 2018, Page No. 23785-23789 Index Copernicus Value (2015): 58.10, 76.25 (2016) DOI: 10.18535/ijecs/v7i3.22
Nirmala.B, Manigandan.T, Kumanan.K, "Authentication Schemes For Session Passwords using text and colors", International Journal of Engineering Development and Research, 2017,Volume 5, Issue 2 | ISSN: 2321-9939
D.Umamaheswari,K.Kumanan,"Iterative Success Variety Method for Joined words in Tamil Language" International Journal Of Engineering And Computer Science,Volume 5 ,Issue 6 June 2016 Page No.17123-17126
D.Umamaheswari,K.Kumanan,"Rule based suffix stripping stemmer for Tamil Language",National Conference on Recent Innovations in Computer Engineering and Information Science,SVCE, May 2016.
Manigandan, T. , Nirmala, B. , Monisha, M.A. , Kumanan. K. (2017), "Remote Access and Control in Android Mobile" International Journal of Informative & Futuristic Research (ISSN: 2347-1697), Vol. 4 No. (6), February 2017, pp. 6472-6476, Paper ID: IJIFR/V4/E6/014
Nirmala, B. , Kumanan, K. (2017), "A Semantic Question Answering System For Multiple Languages Using Statistical Technique" International Journal of Informative & Futuristic Research (ISSN: 2347-1697), Vol. 4 No. (6), February 2017, pp. 6458-6462,Paper ID: IJIFR/V4/E6/007
Lakshmana Pandian S , Kumanan kadhirvelu,"Machine Translation from English to Tamil using Hybrid Technique",International Journal of Computer Applications (0975 – 8887),Vol. 46, No.16, May 2012.
Consultancy Project
Company name: Skopsys Pvt Ltd
Title of the project : Billing and Inventory Management System
Amount: Rs.30000
Project Funds Received
Assisted in receiving a project fund from AICTE-MODROB(2018): Titled: Intelligence Computing for Big Data Analytics using Machine Learning & Deep Learning Methods, Period: Jan 2020 – Jan 2022, Amount: Rs. 11,00,000.
Conference / Workshop / FDP
Workshop Attended
Attended One day National workshop on "Internet of Things | NoSQL Databases" organized by department of CSE on August 30, 2019 at SVCE
Attended two days workshop on Data Analytics Using R held on 21-22 February 2019 in the department of Computer Science and Engineering, SVCE.
One day workshop on Building web Application using .NET Framework held on 15th of October 2018 in the department of Computer Science and Engineering, SVCE.
Two days workshop on Implementation of cloudsim and HADOOP, 5th and 6th of february 2016, SVCE
Two days workshop on Data Analysis and Business Intelligence, 5th and 6th of December 2016, SVCE
Workshop on Linux System Administration held 0n 18th and 18th December 2013 at Dept. of CSE,SVCE
Seven days Faculty Development Program on Software Engineering, SVCE
Workshop Organised
One Day Industry Based Hands-on Workshop on "Selenium Automation Testing" on 29th August 2019 at SVCE.
Two day Hands-on workshop on "Ethical Hacking" on 7th and 8th February 2020 at SVCE.
Two days workshop on BlockChaining & IoT on 15th and 16th October 2018 at SVCE.
Organised two days workshop on PYTHON , 25th & 26th of September ,2015 at SVCE.
FDP Organized
Six-Day Faculty Development Program on Machine learning & Cyber Security from 9th December 2019 to 14th December 2019 at SVCE.
FDP Attended
Attended Three Days National online Faculty Development Program on Recent Trends in Artificial Intelligence and Impact on Teaching Professionals organized by School of Business Management, Buzzment and Buzztech Association on 22-04-2020 to 24-04-2020.
Attended 7 days (3rd -10th december 2014)FDP on CS6403-Software Engineering ,organised by SVCE & Centre for faculty development,ANNA UNIVERSITY,Chennai.
Additional Responsibilities
Current Responsibilities
ISO Coordinator
Previous Responsibilities
2016-2020 Batch : Faculty Advisor 'B3' section
CAT coordinator
AU Practical Exam coordinator
SVCE Pro notes Upload coordinator.
Timetable coordinator
Class committee meeting coordinator
Placement Coordinator
Placement Training incharge
Co-Curricular Incharge for II and IV year students
Employment Objective Incharge
Achievements
Cleared National Eligibility Test (NET )for Assistant Professor on June 2019