Profile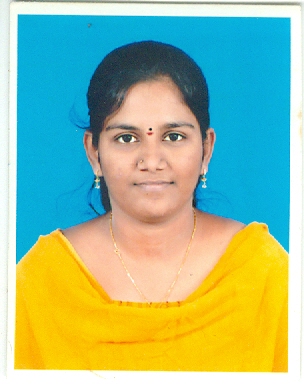 | | |
| --- | --- |
| Name | M.Sugacini , M.E. |
| Designation | Assistant Professor |
| Areas of Interest | Wireless Sensor Networks, Operating Systems, DBMS |
| Room No. | Room No: 11-204 |
| Intercom No. | Extn:361 |
| Mobile | |
| Email Id (Official) | msugacini@svce.ac.in |
| Email Id (Personal) | msugacini@gmail.com |
Qualification
B.TECH -INFORMATION TECHNOLOGY- 2010 – ANNA UNIVERSITY
M.E – COMPUTER AND COMMUNICATION- 2014 – SVCE – ANNA UNIVERSITY
Academic Experience
Working as Assistant Professor at Sri Venkateswara College of Engineering, Since August 2014.
Courses Handled
THEORY
Cryptography and Network Security
Computer Programming
Professional Ethics
Wireless Communication
Distributed system
Database management system
Oops using c++ and python
LABORATORY
Microprocessor Laboratory
Analog and Digital Communication Laboratory
Computer Practices Laboratory
Digital Laboratory
Research & Consultancy
International Journal
M.Sugacini and N.Kumaratharan(2014),"Performance Enhancement Of LTE System Through Interference Reduction Techniques" in Proc of Universal Journal Of Communications And Networks, Vol 2,pp no 58-62.
Conference / Workshop / FDP
Workshops Attended
Attended Workshop on Transition from Machine Learning->Deep Learning: Text, Image and Speech Processing from 12/11/2018 to 17/11/2018
Attended FDP on MedTech curious program – IITM HTIC from 05.09.19 to 06.9.19 at IITM Research Park.
Two weeks aicte fdp AICTE sponsored 2 weeks FDP on Data Science and Exploratory Data Analysis with R and Python from 7/6/2019 to 20/6/2019.
Attended Two days Hands-on Training Workshop on "Python Programming" at Anna University CEG Campus.
Attended TNSCST sponsored state level FDP on "change your life with IOT-The Revolution of the Internet" ,August 9th and 10th 2017.
Attended Special Talk on "Data Science" Organized by Department of Information Technology, SVCE on 13.6.2017.
Three days FDTP on "Data Analytics" at SVCE from 5th to 7th June 2017.
National Workshop on "Role of Information Technology in Scientific Research" from 24.4.2017 to 25.4.2017 at University of Madras.
Attended Seven days FDP on "Mobile Computing" from 28th Nov – 4th Dec & 2016 at MIT, Chrompet.
Attended Seven days FDP on "Cryptography and Network Security" from 9th – 16th June 2016 at SSN College of Engineering.
Attended workshop on recent techniques in web services and internet security
Attended Half day FDP on Data structures, error handling and OOPS at CTS   Dec 17
Attended seven days FDP on software engineering At SVCE December 2014
Attended workshop on Research methodology and teaching pedagogy
Attended Workshop on "NS2" organized by VIT, Chennai.
Attended "PROJECT MANAGEMENT PROGRAMME" organized by IIT MADRAS.
Additional Responsibilities
AO- CAT Coordinator
AO -Library In charge
Department ISTE Coordinator
MM Lab In charge