Profile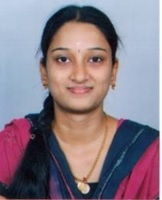 | | |
| --- | --- |
| Name | Ms. K. Silpaja Chandrasekar |
| Designation | Assistant Professor |
| Areas of Interest | Image Processing, Machine learning, Computer vision, Deep learning, and Video processing |
| Room No. | 5005 |
| Intercom No. | 301 |
| Mobile | 044-27152000 ext 301 |
| Email Id (Official) | silpaja@svce.ac.in |
| Email Id (Personal) | |
Qualification
Ph.D (Pursuing(Submitted Thesis))
Full-Time, CEG Campus, Anna University,
Chennai-25
M.E (Computer Science & Engineering)
Meenakshi College of Engineering
Rank Holder(40th Rank)
Scored- 8.62 CGPA
B.E (Computer Science and Engineering)
Alpha College of Engineering
Scored- 72%
Academic Experience
Research Experience
Research Scholar (Full-time)
Department of Computer Science and Engineering
Anna university
Chennai-600025
January 2016  – 2021
Research Associate
Department of Chemistry
Indian Institute of Technology (IIT Madras)
Chennai – 600036
November 2013- November 2015
Industry Experience
Programmer Analyst Trainee
Cognizant Technology Solutions (CTS)
Hiranandani Estate
Powai,
Mumbai,
Maharashtra 400076
October 2010 – April 2011
Research & Consultancy
PUBLISHED MANUSCRIPTS
K. Silpaja Chandrasekar, M.V. Sangaranarayanan, "Exact enumeration of conformations for two- and three-dimensional lattice proteins", Computer Physics Communications, Vol. 199, pp. 8-11, 2016. DOI: 10.1016/j. cpc.2015.09.017. (Annexure-1).Impact Factor: 3.627
K. Silpaja Chandrasekar, P.Geetha, "Highly efficient neoteric histogram–entropy-based rapid and automatic thresholding method for moving vehicles and pedestrians detection",  IET image processing, Vol. 4, issue 2, pp. 354-365, 2019. DOI:  10.1049/iet-ipr.2018.5555. (Annexure-1).Impact factor: 1.995.
K. Silpaja Chandrasekar, P.Geetha, "A highly decisive modernized tracking method using Gaussian mixture particle filter model (GMPFM) and VGG16-LSTM method for tracking the moving vehicles and pedestrians", JVCI-19-1085, Journal of Visual communication & Image representation, Vol. 72, 2020. DOI: 10.1016/j.jvcir.2020.102905 (Annexure-1).Impact factor : 2.479
Conference / Workshop / FDP
INTERNATIONAL CONFERENCE ATTENDED:
NATIONAL CONFERENCE ATTENDED:
K. Silpaja Chandrasekar, "A Statistical Approach for a real-time Dynamic video Background Subtraction", International Conference In Magna On Emerging Engineering Trends (ICMEET2K13), Magna College Of Engineering, April 2013, pp. 95- 99.
WORKSHOPS ATTENDED:
Attended a two-day Workshop on "Machine learning & Deep Learning" on 8th feb-9thfeb 2019 at the Turing Hall, CEG Campus, Anna University Chennai -600025.
Attended a one-day Elsevier Author workshop on ""How to write Research Papers effectively" on 31st  July 2019 at the TAG Auditorium, CEG, Anna University Chennai – 600 025.
Additional Responsibilities
CURRENT RESPONSIBILITIES
University result analysis incharge
UG-curriculum coordinator (AI & DS) department.
PREVIOUS RESPONSIBILITIES
Assisted RUSA (Rashtriya Uchchattar Shiksha Abhiyan) Programming Labs for Undergraduate Students at anna university for two years.
Achievements
M.E- Computer Science and Engineering – Anna University Rank Holder (40th rank) CGPA – 8.62
Worked under the Department of Science and Technology (DST) project in Department of Chemistry, IIT Madras, Chennai.