Profile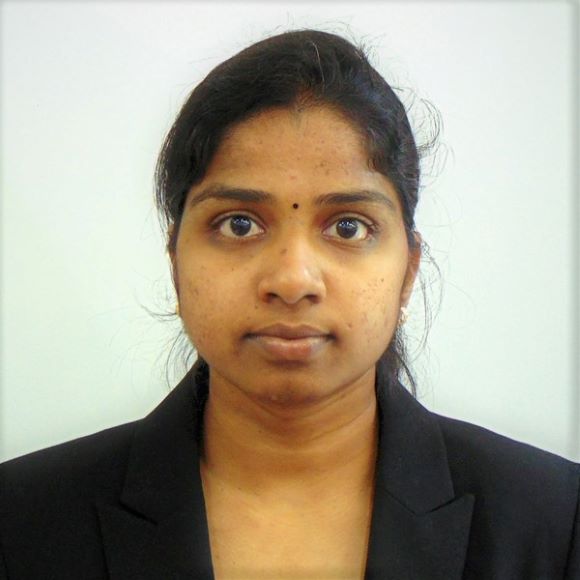 | | |
| --- | --- |
| Name | Dr. S.SUTHA |
| Designation | Assistant Professor |
| Areas of Interest | Nanostructured superhydrophobic coatings, Nanoelectronics, Thermoelectric materials, solar cells, image processing |
| Room No. | 14-206 |
| Intercom No. | 27152000, Extn: 227 |
| Mobile | |
| Email Id (Official) | suthasenthil@svce.ac.in |
| Email Id (Personal) | suthasenthil@gmail.com |
Qualification
PhD in Super hydrophobic Self – Cleaning Nanostructures for Solar Panel Cover Glass Applications, Faculty of Technology, Anna University,Chennai.
M.Tech. (Nanoscience and Technology), KSR College of Technology, Tiruchengode.
BE (Electronics and Communication Engineering), Dr.Mahalingam College of Engineering and Technology, Pollachi.
Academic Experience
Assistant professor, Sri Venkateswara College of Engineering from October 2020 to till date.
Research & Consultancy
Journal:(National and International)
1) Sutha et al. (2015). Studies on the influence of surface morphology of ZnO nail beds on easy roll-off of water droplets. Applied Surface Science, 347, 839 – 848.
2) Sutha et al. (2017). Ultrasonic assisted superhydrophobic ZnO nanowall films. Bulletin of Material Science, 40(3), 505 – 511.
3) Sutha et al. (2017). Solar panel cover glass with transparent self-cleaning superhydrophobic coatings, Solar Energy Materials & Solar Cells, 165, 128 – 137.
4) Sutha et al. (2017). Self-cleaning engineering surfaces for solar panel application. The Masterbuilder, 19(3), 72 – 76.
Conference / Workshop / FDP
Participated:
1) Materials Preparation and Measurement of Properties at Indian Academy of Sciences, Bangalore, India.
2) Analysis on easy roll – off of water droplets on ZnO nail beds at Frontiers in nano Science, Technology and Applications (FiNSTA'14, 2014) in Puttabarthy, Andhra Pradesh, India.
3) Development of ZnO nanorods based low sliding angle self – cleaning coatings at International Conference on Advanced functional Materials (ICAFM, 2014), in Trivandrum, Kerala, India.
4) Synthesis and characterization of ZnO based superhydrophobic coatings for self – cleaning applications at International Union of Material Research Society – International Conference in Asia (IUMRS, ICA, 2013) in Indian Institute of Science, Bangalore, Karnataka, India.
5) Irontitanate Nanoparticles from Ilmenite for Information Storage Applications at National conference on Magnetic materials and applications (MagMA, 2012) in Indian Institute of Technology Madras, Chennai, India.
6) Direct Synthesis of Irontitanate Nanoparticles from Ilmenite at International Conference on Recent Trends in Advanced Materials (ICRAM, 2012) in Vellore Institute of Technology, Vellore, India.
7) Direct Synthesis of Irontitanate Nanoparticles from Ilmenite at National Conference on Nanomaterials and Nanotechnology (NCNN, 2012)" organized by JNTUA college of engineering, Andhra Pradesh.
8) Attended the three days' workshop on Frontiers of Excellence in Photovoltaic Science and Technologies in Indian Institute of Technology, Bombay. (2012)
9) Attended the two days' workshop on Research Challenges in Image Processing" in Coimbatore Institute of Technology. (2011)
Additional Responsibilities