Profile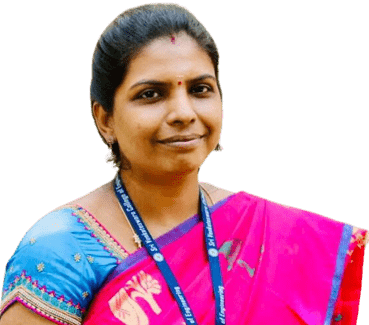 | | |
| --- | --- |
| Name | G Karthiga Devi |
| Designation | Assistant Professor |
| Areas of Interest | Bioprocess Engineering |
| Room No. | 12-001 |
| Intercom No. | 581 |
| Mobile | |
| Email Id (Official) | karthigadevig@svce.ac.in |
| Email Id (Personal) | devigk19@gmail.com |
Qualification
PhD (Chemical Engineering), SSN College of Engineering, Anna University, Chennai, 2017.
M tech (Biotechnology), SRM University, Chennai, 2009
B Tech (Industrial Biotechnology), Arulmigu Kalasalingam college of Engineering, Anna University, 2007
Academic Experience
Assistant Professor, Department of Biotechnology, Saveetha School of Engineering, Chennai (From 27.09.2019 to 03.12.2020)
Assistant Professor, Department of Biotechnology, Aarupadai Veedu institute of technology, Vinayaka missions' Research Foundation, Chennai (From 19.08.2017 to 26.09.2019)
Senior Research fellow, SSN college of Engineering (From jan 2017- Jul 2017)
Junior Research fellow, SSN College of Engineering (From july 2014 to Dec 2017)
Programmer analyst, Cognizant technology Solutions (From Feb 2009 – jan 2010)
Courses Handled
Genetic Engineering
Thermodynamics,
Bio Organic Chemistry
Principles of Chemical Engineering,
Bioprocess engineering
Research & Consultancy
RESEARCH ARTICLES
Manikandan S, Karmegam N, Subbaiya R, Karthiga Devi G, Emerging nano-structured innovative materials as adsorbents in wastewater treatment. Bioresour Technol. 2020 Nov 10;320(Pt B):124394. doi: 10.1016/j.biortech.2020.124394 (IF :7.539)
Karthigadevi Guruviah, Sathish Kumar Annamalai, Comparative antimicrobial and anticancer activity of biologically and chemically synthesized zinc oxide nanoparticles toward breast cancer cells, Nanomed. J. 7(4): 272-283, Autumn 2020 (IF : 4.4)
S. Chozhavendhan, Karthigadevi G, A review on influencing parameters of biodiesel production and purification processes.2020, Current Research in Green and Sustainable Chemistry 1-2:1-6 (IF : 1.29)
G. Karthiga devi, A review on metallic gold and silver nanoparticles, Research Journal of Pharmacology and Technology, 12(2), 935-943, 2019.
S. Chozhavendhan, Karthigadevi G, "Production of Dihydroxyacetone by GluconobacterOxydans from Crude Glycerol", Indian Journal of Environmental Protection, 39 (2): 110-114, 2019.
S.Chozhavendhan, Karthigadevi G, "Substantial purification of waste glycerol – A byproduct of biofuel industry its product characterization", Research Journal of Pharmacology and Technology, 12(2), 649-654, 2019.
R. Subbaiya, Karthigadevi G, "Vegetable Waste as an Alternate Plant Tissue Culture Media for Laboratory and Industry, Research Journal of Pharmacology and Technology, 12(4):1521-1528, 2019.
G. Karthiga Devi, K. Sathish Kumar, R. Parthiban, K. Kalishwaralal(2017). An Insight study on HPTLC fingerprinting of Mukiamaderaspatna: Mechanism of bioactive constituents in metal nanoparticle synthesis and its activity against human pathogens, Microbial Pathogenesis. 102,120-132 (IF :2.914)
Karthiga Devi, G., Senthil Kumar, P., Sathish Kumar, K. (2016). Green synthesis of novel silver nanocomposite hydrogel based on sodium alginate as an efficient biosorbent for the dye wastewater treatment: prediction of isotherm and kinetic parameters. Desalin. Water Treat. 57, 27686-27699. (IF: 1.383).
A. Saravanan, P. Senthil Kumar, G. Karthiga Devi, T. Arumugam (2016). Synthesis and characterization of metallic nanoparticles impregnated onto activated carbon using leaf extract of Mukiamaderasapatna: Evaluation of antimicrobial activities, Microbial Pathogenesis .97, 198-203. (IF :2.914)
G. Karthiga Devi, K. Sathish Kumar (2015) "Synthesis of gold and silver nanoparticles using Mukiamaderaspatna plant extract and its anticancer activity" IET Nanobiotechnology., 11(2), 143-151.(IF :1.95)
G. Karthiga Devi, Sathish Kumar K, Arivalagan K, "Microwave assisted nanohydrogelsfor drug delivery systems" International Journal of pharmacy and pharmaceuticalsciences, 2014, 6(4), 118-123(IF :0.55)
G. Karthiga Devi, Ar. Alamu, "Production of Biopolymer Levan by Bacillus subtilis using Non-Ionic Surfactants" Asian J. Pharm. Tech. 2013, 3(4), P. 93-9

BOOK CHAPTERS

Devi G.K., Chozhavendhan S , Bio-Oil and Syngas Production. In: Rastegari A., Yadav A., Gupta A. (eds) Prospects of Renewable Bioprocessing in Future Energy Systems. Biofuel and Biorefinery Technologies, vol 10. Springer, Cham., April 2019DOI: 10.1007/978-3-030-14463-0_9
Chozhavendhan S., Karthiga Devi G ., Assessment of Crude Glycerol Utilization for Sustainable Development of Biorefineries Refining Biomass Residues for Sustainable Energy and Bioproducts Technology, Advances, Life Cycle Assessment, and Economics, 2020, Pages 195-212
Devi G.K., Chozhavendhan S, Effective Utilization Of Sugarcane Trash For Energy Production., January 2020 Refining Biomass Residues for Sustainable Energy and Bioproducts DOI: 10.1016/B978-0-12-818996-2.00012-0:
Chozhavendhan S., Gnanavel G., Karthiga Devi G., Subbaiya R., Praveen Kumar R., Bharathiraja B. (2020) Enhancement of Feedstock Composition and Fuel Properties for Biogas Production. In: Praveen Kumar R., Bharathiraja B., Kataki R., Moholkar V. (eds) Biomass Valorization to Bio energy. Energy, Environment, and Sustainability. Springer, Singapore
Devi G.K., Chozhavendhan S., Jayamuthunagai J., Bharathiraja B., Praveen kumar R. (2019) Conversion of Biomass to Methanol and Ethanol. In: Pogaku R. (eds) Horizons in Bioprocess Engineering. Springer, Cham
Chozhavendhan S., Karthiga Devi G., Jayamuthunagai J., Bharathiraja B., Praveen kumar R., Raman J.K. (2019) Conversion of Glycerol to Valuable Products. In: Pogaku R. (eds) Horizons in Bioprocess Engineering. Springer, Cham
Conference / Workshop / FDP
CONFERENCE PRESENTATIONS
Presented and won 2nd prize for the paper entitled "Reduction of nitrates over indium decorated palladium as catalyst" in International Conference ICCEBHE – 2018 at Crescent Institute of Science and Technology, Chennai on Sep 11-12, 2018.
Presented a paper titled "Green synthesis of ZnO nanoparticles in treatment of Urinary catheter infections" in National conference on Biotechnology Advances in Biomedical, Environmental and Agricultural Technology (BEAT 2K18) at Hindustan College of Arts and Science, 29th Aug 2018.
Presented a Paper entitled "A review on Synthesis and thermophysical properties of Nano fluid" in ICCMCT- 2018 organized by SVS College of Engineering , Coimbatore , during 23-24 February 2018.
Presented a Paper in the National Conference on "Sustainable Trends in Energy and Environmental Resources" organized by IIChE at SSN College of Engineering , Chennai during 24-25 January 2018.
FDP ATTENDED
AICTE Training And Learning (ATAL) Academy Online FDP on "Green Technology & Sustainability Engineering" from 2020-10-19 to 2020-10-23 at Dr BR Ambedkar National Institute of Technology, Jalandhar.
Attended Faculty Orientation Programme on "Instructional design and delivery system" held on Jan 2019 at Aarupadai Veedu Institute of Technology, Chennaiconducted by Aarupadai Veedu Institute of Technology.
Attended Conference on "Digital agriculture"held on December 2018 Organised by Confederation of Indian Industry
Attended Faculty Orientation Programme on "Effective Implementation of Outcome Based Education (OBE)" held on July 2018 organized by Internal Quality Assurance Cell (IQAC) by Aarupadai Veedu Institute of Technology, Chennai.
Attended Faculty Development Programme on "Artificial Intelligence, Machine and Deep learning in Research applications Organized by Aarupadai Veedu Institute of Technology, Chennai during 9th – 11th July 2018.
Attended one week Induction/ Refresher Programme on "Innovations and Recent Development in Pharmaceutical and Biotechnology and Clinical Research" conducted during 23rd -28th July 2018 at Adhiyamaan College of Engineering.
Participated in Faculty Development Programme on "Green chemical technology and Application for sustainable developments in chemical industry organized by SSN college of engineering during 4-9th December 2017.
Participated in the seminar"Nanomaterials for green Processes"at SSN College of engineering, chennai held on 26th March 2015.
Participated in the Ministry of earth sciences (MOES) Sponsored one day national seminar on "Applications of Nanotechnology for pollution Abatement (ANPA)"
Participated in Faculty Development Programme on Chemical Technology and Application for Sustainable Developments in Chemical Industry held during December 4- December 9, 2017, at SSN College of Engineering, Chennai.
Participated in 3 days FDP on "Separation Process in Environmental Applications", SSN College of Engineering.
Participated in 2 days Workshop on "Analytical techniques for Research in Chemistry" organized by B.S. AbdurRahman University.
Participated in 5 days UGC sponsored Training Programme on "The state of Art – Analytical Techniques", conducted by Anna University.
Participated in RSC- South Indian Section sponsored Seminar on "Experimental Methods in Chemistry", Madras University.
Participated in National workshop on Animal cell line techniques conducted by Sathyabama University.
Participated in third International workshop on "Advanced functional Nanomaterials" conducted by Anna University, Chennai
Additional Responsibilities
Achievements
ACCOMPLISHMENTS
Awarded IMPREZ AVIT 2019 award in the National level symposium organized by AVIT, Chennai
Awarded Excellent Educator award from AVIT , Vinayaka Missions' Research foundation during the academic year 2017-18
Awarded Young Researcher during the National Conference (CTSE) organized by SSN College of Engineering, 2017
MEMBERSHIP DETAILS
Recognized Reviewer on Elsevier Journal : MATERIAL SCIENCE AND ENGINEERING C
Doctoral committee member for Ph.D. programme at Bharath University, Chennai
Recognized as a Research Supervisor for Ph.D./MS (by research), Vinakayaka Missions Research foundation, Chennai.
Life time member- ISTE