About Us
Red Ribbon Club is a movement started by the Government of India in schools and colleges through which, students will spread awareness over HIV / AIDS. It motivates and guides to the students community to extend their kind help towards developing healthy life styles, donating blood to all the needy by promotion of Regular voluntary blood donation. It also emphasises on prevention of drug abuse and drunken driving. The Red Ribbon Club at Sri Venkateswara College of Engineering came into effect from 15/09/2006. It was inaugurated by Dr. V. D. Ramanathan Deputy Director and Head, Department of Clinical pathology, TRC - ICMR- Chennai in the presence of the then Principal Dr. N. Nithiyanandam and Felicitated by Ms. Sethulakshmi YRC Care, Community Research Facility, Chennai. The programme was organized by Dr. S. Selvakumar, SVCE RRC coordinator. Then the subsequent programme of RRC was being conducted on each year. Currently the orientation training programme of SVCE RRC was conducted during 26th July 2018 by RRC coordinator Dr. S. Prabhu. The programme was inaugurated by Secretary Prof. M. Sivanandham and Principal Prof. S. Ganesh Vaidyanathan in the presence of District ICTC counsellor Ms. J. Indira. The programme was sponsored by TACS.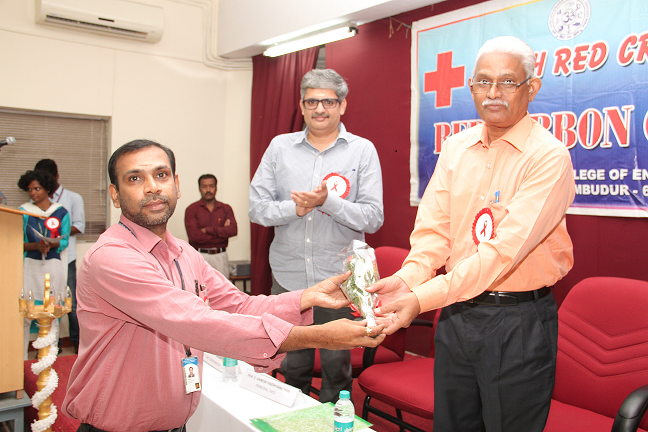 Inauguration of Red Ribbon Club Orientation Programme
OBJECTIVES
Educate youth with correct, concise and adequate information and heighten their level of awareness about HIV AIDS, STI and other related issues (thus eliminate myths and misconceptions).
Enable youth to identify and understand situations of exploitation and abuse.
Sensitize the youth regarding care and support needs of people affected with HIV AIDS and instil in them the spirit to reduce the stigma and discrimination against them.
Create and train among the youth a cadre of peer educators for spreading awareness about HIV-AIDS and its prevention in the community.
ADVISORY COMMITTEE MEMBERS
Prof. S. Ganesh Vaidyanathan - Principal
Dr. G. Sudha - RRC Coordinator (SVCE)
List of Students Selected for Variious Office Bearers Position RRC 2022-23
| Name | Year | Department | Office Bearers |
| --- | --- | --- | --- |
| 1 | Mr. T. Gunasekar | CHE /3/ A | President |
| 2 | Ms. M. Shrima | CHE/ 3/ B | Secretary |
| 3 | Mr. S. Sakthivel | BIO/3 | Joint Secretary |
| 4 | Ms. U. Smruthi | CHE/ 3/ B | Treasurer |
| 5 | Mr. K. Rajapandian | ECE/3 | Executive Member |
| 6 | Mr. S. Santhosh kumar | EEE/2 | Executive Member |
| 7 | Ms. M. Saliya Parveen | CHE/ 3/ B | Executive Member |
| 8 | Mr. V. K. Vignesh | CHE/ 3/ B | Executive Member |
| 9 | Ms. R. Navya | CHE /3/ A | Executive Member |