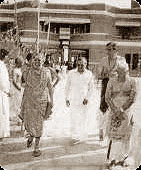 Sri Venkateswara College of Engineering(SVCE), a unit of Sri Venkateswara Educational and Health Trust(SVEHT), was inaugurated by the then Governor of Tamil Nadu, Hon'ble Shri S L Khurana. The inaugural function of the college complex at Nazarathpet took place on 8th April 1985. Formal academic classes were inaugurated by Mr C. Subramanian on 19th August 1985.
The GRIHAPRAVESAM function of the new Campus was performed on 25.07.1991. The Campus houses a Vinayaka temple "SRI VIJAYA GANAPATHI ALAYAM". The new Campus was inaugurated on 5.12.1992 by the then President of India, His Excellency Shri R Venkataraman.
A major objective of this Institution is to plan and implement a programme of education in Engineering and Allied Sciences in order to promote research, to disseminate knowledge and to foster cooperation and exchange of ideas between the academic community and industrial organizations and to develop entrepreneurship skills among students. It strives to achieve academic excellence along with the harmonious development of personality of students.
The Governing Council, which is the Apex Body for the governance of the college, is chaired by well-known industrialist and philanthropist Dr. A.C.Muthiah, Chairman, SPIC Ltd. Under his guidance, the college has progressed phenomenally. In a span of the two decades, there has been an all round development in infrastructure and research and academic activities.
Twenty two batches of students have passed out of the College. Many of them have completed their Masters Degree. Several of our Alumni have completed PhD and work in prestigious US and Indian Universities. Many work in reputed companies like General Motors, Microsoft, CISCO, GEC, Infosys, TCS, CTS, HCL, TVS, Hindustan Motors, etc. A few are entrepreneurs.
The College is situated in an area of about 94 acres at Pennalur, Sriperumbudur, with excellent infrastructural facilities that include instructional buildings, laboratories, workshops, faculty rooms, office, conference hall, dispensary, technology innovation centre, staff quarters, guest house, open air auditorium, library, canteen, hostels, swimming pool, RO plant, gymnasium, indoor sports facility and play grounds.
The college celebrated its decennium on 16.03.1996 and then Honorable Minister of State for Commerce Shri P. Chidambaram presided over the function. The college conducted the Graduation Day for the first time on 10.01.2009 with the eminent scientist Dr. Mayilswamy Annadurai as the Guest of honour. Academic year 2009-10 was the Silver Jubilee Year of the College. The college conducted the second Graduation Day on 29.3.2010 with the eminent scientist Dr Thirumalachari Ramasami as the Guest of honour.
Milestones
Year
Milestone
1985

Inaugural Function of College Building
Commencement of academic work
Prof. V N Sujeer assumed the post of Principal

1986

Departments of Engineering disciplines started and sufficient infrastructural facilities made available
Land purchased by the Trust at Pennalur (present location) for the College

1987

Sri S Ravindran inducted as Executive Trustee
Advisory Committee consisting of Sri R Sethuraman, Sri S V Ganesan and Sri C G Rangabashyam formed.

1988

Dr. A C Muthiah took over the Chairmanship of the Trust
Dr. M A Chidambaram and Sri Ashwin C Muthiah joined as Trustees
Sri A G Sivaramakrishan took charge as the Secretary of the Trust and Sri B R Sreenivasamurthy as Treasurer

1989

Our first batch of students graduated
Bhoomi Pooja performed at the Pennalur site and construction commenced. Sri P T Krishnan, a leading architect, designed the architecture of this Campus
Sri S Sundararajan appointed as the Treasurer of the trust

1990

Sri R S Raman assumed the post of Secretary of the trust
Prof. A Krishanan took over as Principal

1991

Grihapravesam performed at the Pennalur Campus
First year classes conducted at the New Campus

1992

His Excellency Sri R Venkataraman, then President of India, inaugurated the New Campus. His Excellency Sri Bhishma Narain Singh, the then Governer of Tamilnadu, presided and Sri RM Veerappan the then Minister of Education graced the ocassion
Sri Vijayaganapathi temple built at the New Campus and Kumbabishekam performed
All departments and all classes functioned at the New Campus at Pennalur
AICTE grants approval
A fleet of buses engaged to transport students, faculty and staff from various parts of Madras City

1993

Prof. A Krishnan, Principal, took over as the Secretary of the trust
Prof. S Muthukkaruppan, Head of the Department of Computer Science & Engineering, took over as the Principal

1994

B.E. Electrical & Electronics Engineering and B.Tech. Chemical Engineering Courses started.

1995

First decade of existence of SVCE
Prof. S B Rao, Sri J K Gopalarathnam, Dr. K Govindarajan and Sri Srihari joined as trustees
Commenced post graduate programme Master of Computer Applications

1996

Introduced B.Tech Information Technology

1997

Campus-wide Networking completed
Library Automated
Shri V Thulasidoss took over as Treasurer
Internet and E-mail thro' dial-up Access

1998

National Board of Accreditation accredited B.E Mechanical Engineering, B.E Electronics and Communication Engineering and B.E Computer Science and Engineering programs
64 Kbps dedicated Microwave Link to VSNL for Internet Access
Introduced B.E Marine Engineering
Conducted International Conference on VLSI
First Hostel inaugurated
Increased intake of B.Tech Information Technology from 30 to 60

1999

Commenced

B.E. Automobile Engineering
M.E. Thermal Engineering

M.C.A. intake increased from 30 to 60.
Air Conditioning and bar-coding implemented in the library
Memorandum of Understanding signed between SVCE and Cognizant Technology Solutions to set up an "Extended Software Solutions Laboratory" at the College
Second Hostel Commissioned

2000

Intake of ECE, CSE, IT increased to 120 seats
Extra Laboratory facilities for Marine and I.T branches.
Deanship introduced

2001

Hosel Block III Commissioned
Intake of Elelectrical and Electronics Engineering increased to 120.
M.Sc. Computer Science and Technology and M.Sc. Information Technology courses commenced.
Gym established.
Bhoomi Pooja for Girls Hostel
Marine Engineering Block inaugurated by Admiral Sushil Kumar, Chief of Naval Staff
Best Teacher Award instituted.

2002

MOU Signed between SVCE and Gemini Communication Systems for Training of Faculty and Student Projects.
MOU signed with CG Maersk Information Technologies Pvt. Ltd.
Obtained ISO 9001:2000 Certification
Courses accredited

Electrical and Electronics Engineering 
Chemical Engineering
Information Technology
Computer Science and Engineering
Master of Computer Applications

Commenced

M.E. Communication Systems
M.E. Power Electronics and Drives
M.E. Computer Science and Engineering

Girl's hostel commissioned.
Our first batch of Marine Engineering students graduated.
MOU Signed - Cherrytec Solutions Limited (Formerly Cherrysoft Technologies)

2003

Commenced

M.E. Computer Aided Design.

Intake increased

M.E. Computer Science and Engineering
M.E. Communication Systems
M.E. - Power Electronics and Drives

Prof. Beex, Professor and Director, DSP Lab, Department of EEE, Virginia Technology, USA visited the campus for 20 days, interacted with faculty for research and instructed senior students on Digital Signal Processing.
Commissioned,

Hostel Block IV
Class room Block II

MoU signed

CLRI
Autoforge Limited
Lucas TVS Limited
Cherrysoft Technologies Limited, Chennai
SPEL Semiconductors Limited, Maraimali Nagar, Chennai

Entrepreneurship Development Cell established
NCC (Navy wing) started.
First batch of Automobile Engineers graduated
Tuition fee waiver - Scholarship Scheme introduced.
Accreditation Status awarded by NBA for the following programmes:

| Name of Programme(s) | Accreditation Status | Period of Validity w.e.f. 12-09-2003 |
| --- | --- | --- |
|  B.E. Mechanical Engg |  Accredited | 5 Years |
|  B.E. Electronics & Communication Engg. |  Accredited | 5 Years |
|  M.E. Thermal Engg |  Accredited | 3 Years |

2004

Shri Ar Rm Arun joined as Member Governing Council.
Shri T. Bhushan Rao,Shri P.R.K. Rao, Dr. A.V. Chandrasekar Rao joined as Trustees.
IT Block inaugurated.

2005

Shri V Rajagopal joined as Treasurer.
Prof. N Nithiyanandam, Dean(Academics) and Professor of Electronics and Communication Engineering Department took over as the Principal.
Prof. S Muthukkaruppan, Principal, took over as Advisor - Academic matters
Swimming Pool commissioned.

2006

Kumbabhishekam performed - Lord Sri Vijaya Ganapathi.
Shri M H Avadhani joined as Managing Trustee.
Shri T.G. Balachandran joined as Registrar.
The Following Courses Accredited by NBA for 3 Years.

Automobile Engineering
Chemical Engineering
Information Technology
Marine Engineering

2007

Shri T.G. Balachandran took over as Secretary.
Prof. Dr. R. Ramachandran took over as Principal.
Biotechnology block commissioned.
Class room Block III commissioned.
Hostel Block - V (For Boys) commissioned.
Reverse Osmosis Plant Commissioned.
1 Mbps BSNL RF line for internet access obtained.

2008

Following courses Accreditated:

B.E.Computer Science and Engineering (3 Years)

B.E. Electrical and Electronics Engineering (5 Years)

Civil engineering department commissioned.
Prof E.G. Govindan, HOD/IT,Dean-Student Affairs, additionally designated as vice principal.
Bandwidth of Internet increased from 1Mbps to 8Mbps.
SVCE accrediated by NAAC.

2009

Following courses Accreditated:

B.E.Mechanical Engineering (5 Years)

B.E. Electronics and Communication Engineering (5 Years)

Increased intake in B.Tech Chemical Engineering (90), B.E Automobile Engineering (60), each by 30 students.

2010

Prof.M.Arunachalam joined as Secretary
Shri A. Muthukumar joined as Treasurer
Two Courses intorduced:

M.Tech Bio-Technology (18)

M.E. Computer and Commnuication (18)

2011

M.Tech Chemical Engineering introduced (18)
Increased intake in B.E. Mechanical Engineering 90 to 120
Hostel Block VI (For Boys) commissioned
Class room Block-4 commissioned

2012

Prof.M.Sivanandham Dean-Research took over as Principal
Intake for the following Programes incresed:

B.E. Mechanical Engineering from 90 to 120

B.E. Electronics and Communication Engineering from 120 to 180

B.E. Computer Science Engineering from 120 to 180

Two Programs introduced:

M.E. Applied Electronics (18)

M.E. Internal Combustion Engineering (18)

2013

The British council, Chennai awarded our college as one of the top 10 engineering co lleges for gaining university ranks, in a function held in the British council in October 2013. The college was profiled in the November 2013 issue of the magazine "Higher Education Review". The college was lauded for building up the best industry ready professionals.
The new college auditorium was inaugurated in a colourful function by HH Sri Jayendra Saraswathi Swamigal and HH Sri Vijayendra Saraswathi Swamigal in November.
A new Solar Power Plant of 35 KW capacity has been installed successfully by the college. The energy generated from the plant is utilized along with the supply received from TNEB.
Intake of B.E. Civil Engineering increased 90 from 60
One additional program in M.E. Mechatronics (18) added
M.E. Computer and Communication has been changed to M.E. Computer Science and Engineering (with specialization in Networks)
Gents Hostel Block-VII and Ladies Hostel Block-III commissioned.
His Holiness Sri Jayendra Saraswathi Platinum Jubilee Complex commissioned (A Muti-purpose hall).
Sewage Treatment Plant (STP-250KLD) commissioned

2014

NAAC Accreditation 5 yrs with effect from 21.02.2014.
Prof. R. Parthiban, took over as Principal.
Shri Y.P. Praasad, Trustee took over as Chairman of Sri Venkateswara Educational and Health Trust.
OAT (Open Air Theatre) reconstructed and commissioned.
Following courses Accredited:
B.E.-Computer Science and Engineering (2 yrs.)
B.Tech.-Biotechnology (2 yrs.)

2015

Class Room Block-V Commissioned.
Food Court opposite to Class Room Block-V commissioned.
Bus Bay-II opposite to Class room Block-V commissioned.
Shri Magunta Srinivasulu Reddy joined as Trustee of Sri Venkateswara Educational and Health Trust.

Accreditation Status awarded by NBA for the following programmes for a period of two years, with effect from 01 July 2015

B.Tech. Chemical Engineering
B.E. Electronics & Communication Engineering
B.E. Mechanical Engineering
B.E. Automobile Engineering

Prof. S Ganesh Vaidyanathan , took over as Principal.
Prof.M.Sivanandham joined as Secretary

2016

UGC has conferred fresh autonomous status for a period of six years from the academic year 2016-17 onwards
"Dr. A.C. Muthiah Central Library" was inaugurated on 2nd November 2016 by our Chairman.
The Office of Controller of Examinations (COE) is established.
Rain water Harvesting pond construction completed and rain water storage stated.

2017

Accreditation Status awarded by NBA for the following programmes up to 30/06/2020

B.Tech. Biotechnology
B.E. Computer Science Engineering

Pond Water treatement plant commissioned

2018

Accreditation Status awarded by NBA for the following programmes up to 30/06/2021

B.Tech. Chemical Engineering
B.E. Electronics & Communication Engineering
B.E. Mechanical Engineering
B.E. Automobile Engineering

Cricket Turf ground Pavilion commissioned

2019

Sri Jayendra Saraswathi Shankaracharya statue unveiled in the campus
New enhanced placement cell facilities commissioned
2020

B.Tech. Aritifical Intelligence and Data Science started in Department of Computer Science and Engineering
M.E Industrial Automation & Robotics started in Mechanical Engineering Department