The First Edition of PROBE'21, the Quiz Competition and its Valedictory and Award Ceremony
SVCE SCIENCE CLUB organized The First Edition of PROBE' 21" A State Level Academic Quiz for Higher Secondary Students to Commemorate the Centenary Year of Einstein's Nobel Prize Award", on 27th June 2021, SUNDAY. The Director of Pragya online .com and Bio Surgical and Suppliers Chennai, sponsored Rs.7500/ for the event. About 150 participants from more than 100 schools have registered from our state and few other sate students from Kerala, Bangalore, Kanpur, Pondicherry and Jammu and Kashmir and few from West midlands were also registered.
The valedictory and award ceremony function was organized on 4th July Sunday between 4:00 pm and 5:00 pm in Google meet. Guest speaker Dr.G.J. Manohar, Headmaster and Correspondent, Madras Christian College Higher Secondary School, delivered the valedictory address and announced the top 3 winners.Dean Research Dr.R,Muthucumaraswamy preside over the function and gave brief note about SVCE campus and various courses offered by it. The Coordinator of SVCE SCIENCE CLUB. Dr.N.R.Sheela addressed the gathering about the Motto and the objectives of SVCE SCIENCE CLUB, and thanked the management, Secretary, Principal. Dean-Research and concern Department Heads for giving the opportunity to coordinate the SVCE SCIENCE CLUB.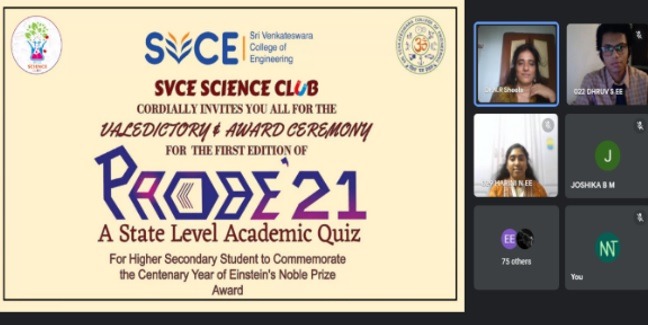 The winners of the Quiz Contest were awarded with cash prize, Wake up with Buddha Book and Merit certificate. The winners of the contest are as follows,
WINNERS OF PROBE' 21
3. JAYAPOORNIMA M-State Board
C K School Of Practical Knowledge Matriculation Higher Secondary School11A,
Cuddalore, Tamil Nadu 607001
2. PRETHIVIKA G -CBSE
Maharishi School of excellence,
Thiruverkadu, Chennail. Tamil Nadu 600077
1. AMIRDHAVARSHINI U State Board
Vidyodaya Mat Hr Sec School T.Nagar,Chennai-600017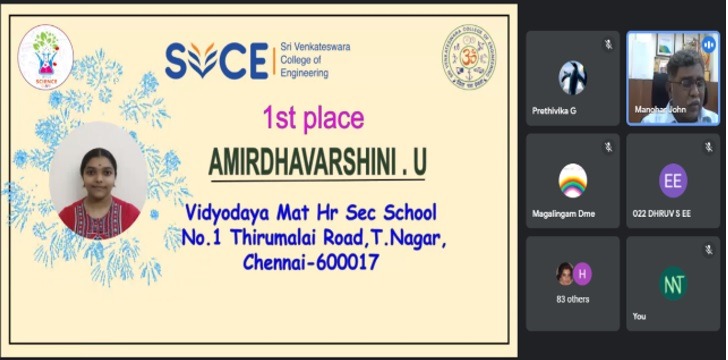 Joint Coordinators Dr.S.Ananda Babu introduced the Chief guest and Ms. Visalakshi Subramnain announced the top 25 performers. Mr. Gurucharan Alumnus 2020 Batch from the Department of ECE sponsored to all the top 25 performers with his book "Wake Up with Buddha", as a token of appreciation.
Many contestants of the event shared very good Feedback about the event and thanked for the opportunity, top three contestants shared their thoughts and their future vision. Feedback link was posted in the chat box and all the contestants were requested to fill and submit the same to generate their e-certificates.