ACM
Association of Computing Machinery, Student Chapter
SVCE ACM Student Chapter was set up by students of CSE department under the guidance of Dr.Susan Elias, HOD/CSE. It was officially chartered by ACM New York on 26th August 2011. ACM is an international organization whose aim is "Advancing computing as a science and profession". A team of 26 enthusiastic students from the Department took the initiative to set up this chapter. The official launch was on 22nd September 2011. SVCE ACM student chapter was set up to to facilitate all activities which aim at spreading quality computing education by setting up learning groups, organizing seminars, conducting workshops, facilitating contests and so on.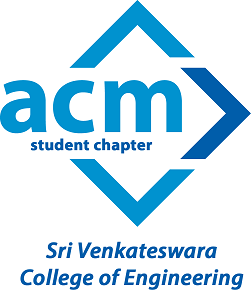 ACM-SVCE STUDENTS CHAPTER 2018-2019
SVCE's ACM Student Chapter is one of the most well reputed associations both within and outside of the institution. Although it wasn't a part of the college when the college was first founded, it is now a permanent and integral part of SVCE which has achieved great acclaim and laurels throughout the years it has been active. Even though we are quite few in number, we strongly believe that quality is more important than quantity.
The SVCE ACM student chapter aims to provide an opportunity for students from different walks of life to compete and tackle problems in an effective manner. As one of the well-known institutions inside the college, we aim to bolster student skills from both a professional and personal point of view by organising events like Hackathons, workshops and quizzes. As we set foot into our seventh successful year, we aim to maintain the high standards set by our predecessors by organising events intertwined with fun and frolic, for we believe in: "Simplicity, carried to the extreme, becomes elegance".
Organizing technical events intertwined with loads of fun filled challenges is our forte. Our wide variety of events boosts both 'competing by learning' as well as 'learning by competing'! Participating in our events helps you take a step towards success, and thereby guides you to make your path towards success an interesting one rather than a difficult one.
Click here to view ACM Report 2018-19
List of Office Bearers for SVCE-ACM 2018-19
| Name | Post | Year | Section |
| --- | --- | --- | --- |
| AKASH SARAVANAN | Chair | IV | A |
| AISHWARYA RAMANATHAN | Vice-Chair | IV | A |
| JASHAUL.D | Secretary | IV | A |
| MOHAMED ANAN | Member Chair | III | B |
| AISHWARYA.A | Treasurer | III | A |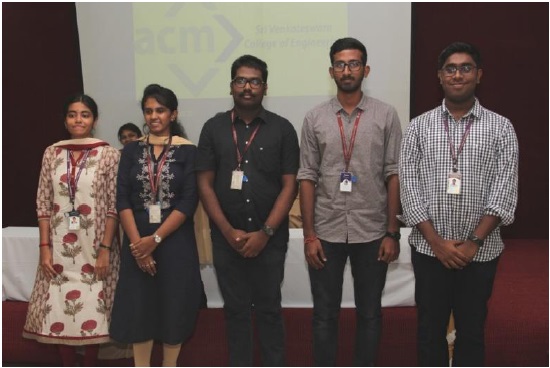 ACM-EVENT DETAILS
1. Inaugration of the SVCE ACM STUDENT CHAPTER for the academic year 2018-19 was held on July 16th 2018. The chief guest for the event was Mr.Vaidyanathan Krishnamoorthy, Vice President and Head of Insurance Cognitive Business Operations of Tata Consultancy Services, Daytona, New Jersey. He gave valuable tips for developing entrepreneurial skills and provided an insight into the various business strategies with an interactive session.

2. Yet Another Hackathon Y.A.H 2k18, a National level 24-hour hackathon organised by SVCE ACM STUDENT CHAPTER and SVCE Alumini Association was held on 18th and 19th of August 2018 at ASCENDAS IT PARK with the aim to encourage teams to transpire innovative ideas that help shape a better future whilst developing team coordination skills.
ACM-SVCE STUDENTS CHAPTER 2017-2018
ACM-EVENT DETAILS
1. Inauguration of ACM on 25th July, 2017 for the academic year 2017-2018. The Chief Guest for the event was Mr Rajesh Padmanabhan, Founder and CEO of NFN Labs, who enthused the audience with a realistic but motivating outlook on life, technology and entrepreneurial spirit.
2. Game of Codes event held on 4th August, 2017 with the aim of providing student-sourced guidance to other students on attaining maximum success in placement interviews.
List of Office Bearers for SVCE-ACM 2017-18
| Name | Post | Year | Section |
| --- | --- | --- | --- |
| Laksh Khanter | Chair | IV | B |
| Naresh Singaravelu | Vice-Chair | IV | B |
| Shruthika.M | Secretary | IV | C |
| Mathangi.S | Joint Secretary | IV | B |
| Dipika Rajesh | Member Chair | IV | A |
| Sri Vardhamanan | WebMaster | III | C |